MicroCare Adds New Products at APEX 2018, Dominates the Cleaning Segment
February 28, 2018
MicroCare Corp. introduced a major expansion of their line of precision cleaning products to visitors at the IPC APEX EXPO in San Diego, CA Feb. 27-March 1, 2018. Among the innovations were popular flux-cleaning chemistries in a super-convenient cleaning pen, an innovative pre-saturated cleaning wipe designed specifically to enhance ESD programs in manufacturing facilities, economy-sized packaging for their best-selling flux removers, and two new cleaning products: a heavy-duty degreaser and a heavy-duty cleaner for mass transit systems. All of these products will be shipping and available from distributors world-wide within the next 45 days.
A flyer describing all the new products is available here.
The biggest crowd-pleaser was the new ESD Presaturated Cleaning Wipes which were presented for the first time to the electronics industry. These static-dissipative lint-free wipes feature a new chemical formulation packaged with a rugged, non-linting fabric wipe which quickly, easily and thoroughly remove flux residues, oils, finger prints, grime and debris from ESD mats, tools, bins, tool racks, workbenches and other surfaces in a PCB manufacturing facility.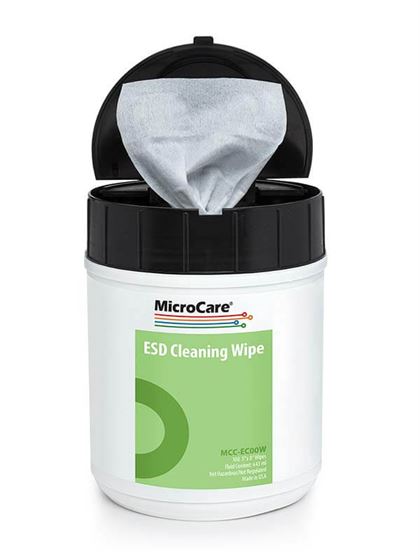 "Everybody worries about ESD, so APEX is a great venue for MicroCare to showcase our latest innovations," said Dan Sinclair, MicroCare National Sales Manager. "The ESD Presaturated Cleaning Wipes were very well received and customers kept trying to take our display samples to test and confirm they really do prevent the build-up of electrostatic charges."
The new range of cleaning pens features three formulations: the No-Clean Flux Remover, the RMA Flux Remover, and the Water-Soluble Flux Remover Pens. These three new cleaners have been designed to specifically remove fluxes quickly and safely and ensure PCBs will enjoy a long and productive life at the lowest possible cost.
It is expected the best-seller will be the No-Clean Flux Remover Pen. This product is formulated to remove no-clean fluxes and pastes quickly, leaving no residue. It also has the added benefit of cleaning other contaminants like adhesives, oil and grease and is an excellent degreaser and general-purpose cleaner. Importantly it has low Global Warming Potential (GWP) and is exempt from VOC regulations in most areas, making it an ideal option for use on modern production lines and repair centers. The chemistry is based on the popular MicroCare cleaner, the No-Clean Flux Remover – VeriClean™.
MicroCare also introduced visitors to the high-performance RMA Flux Remover Pen, which contains an extra-strength formulation to help clean difficult to remove aged and baked-on flux. Completing the line-up is the Water-Soluble (OA) Flux Remover Pen. This is a very versatile and economical cleaner for organic acid solders, pastes and fluxes. Because this cleaner evaporates more slowly, it increases the time techs have when working with baked-on flux residues.
Also showcased to industry for the first time are the new economy-size flux remover aerosols which include the Heavy Duty Flux Remover – SuprClean™, the Alcohol-Enhanced Flux Remover – ProClean™ and No-Clean Flux Remover – VeriClean™. The larger package helps to reduce packaging waste and offers a number of cost-saving benefits. The price of the new products will reduce the cost-per-cleaning more than 10% over traditional packaging. All of the new cleaners are compatible with the money-saving TriggerGrip™ PCB cleaning tool from MicroCare.
Also new to the MicroCare portfolio are the Heavy-Duty Transit Cleaner and the Heavy-Duty Degreaser. The Transit Cleaner is one of the strongest and most versatile cleaners in the MicroCare line. It has been specifically engineered for the use on vehicles like buses and trains, but is also effective for cleaning trolleys, elevators and escalator systems. The nonflammable fluid quickly and easily removes dirt and grease from machinery and metal parts, as well as successfully removing oils, inks and organic grime which can be difficult to clean.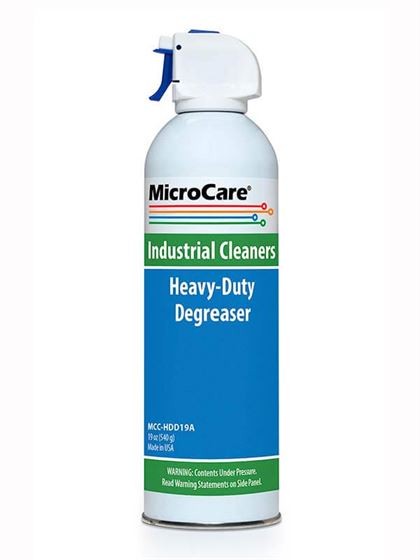 Meanwhile, the Heavy-Duty Degreaser is a super-strong non-flammable multipurpose degreaser engineered to be fast drying, leaving no white residue. This cleaner also saves time as no rinsing is required, making it even more economical. While not directly focused on the electronics industry, it cleans most oils, grease, inks, grime and so is a great all-round product. It is also available in pail and drum sizes so the fluid is the ideal choice for any size company.
All in all, IPC APEX was a very successful show in 2018, and MicroCare is eagerly looking forward to seeing these additions be commercialized into the market and snapped-up by new and existing customers.