MicroCare History
MicroCare is based in New Britain, Connecticut, USA, which is about 100 miles/150 km northeast of New York City.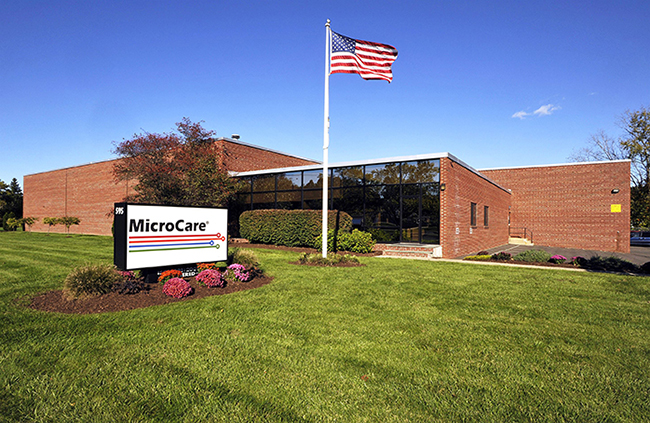 It started as one part of a larger organization, the Jones Family of Companies, dating back to 1956 when Robert M. Jones started a sales firm in West Hartford, CT selling ultrasonic cleaning systems.
MicroCare was established in 1983 by Chris Jones to meet the demands for precision cleaning fluids in the electronics and metal fabricating industries. The first MicroCare products were aerosol cleaning fluids for defluxing circuit boards. Since then, our line grew to include metal cleaning fluids, medical device lubricants, fiber optics cleaners and workspace cleaners.
In May 2020, in partnership with the company's co-founder and senior management, MicroCare was sold to Heartwood Partners. This allows MicroCare to continue to deliver a broad range of critical cleaning solutions and the value-added technical expertise and critical cleaning lab support our distributors and end-users have come to expect from us.
Today, MicroCare, LLC is an ISO 9001:2015 registered company specializing in cleaning coating and lubricating fluids used in the installation and manufacture of a broad range of products in the electronics, medical, fiber optic and metal fabricating industries. Since 1983 we have pioneered hundreds of environmentally progressive and sustainable products in response to emerging regulatory demands and our customers' evolving cleaning and coating needs.
But we are also a company with heart. At all of our facilities across the globe, we work in a cheerful, inclusive and collaborative environment where we respect, encourage and support our customers, our suppliers and each other.
Watch more about our history.
Some quick statistics:
MicroCare offers modern, safe, environmentally-sensitive cleaning alternatives, including HFO, HFC, HFE, siloxane, and hydrocarbon solvent choices
MicroCare is an ISO 9001:2015 registered company, recognized for its quality management
MicroCare manufacturing facilities are FDA registered for the manufacture of alcohol-based sanitizers
MicroCare has three production facilities, three critical cleaning labs and four logistics centers around the globe
MicroCare products are available from local distributors in 47 different countries
MicroCare safety data sheets are available in at least 21 languages
MicroCare is growing and leading the industry in research and development
MicroCare holds numerous patents for unique cleaning fluids and tools