MicroCare Wins Prestigious "Innovators Award" from Cabling, Installation & Maintenance Magazine
January 08, 2016
MicroCare Corp. has been honored again for its expertise in critical cleaning with an award for its Sticklers™ family of fiber optic cleaning products. The Sticklers™ CleanStixx™ EB, engineered for cleaning expanded beam connectors, will be recognized with a prestigious Cabling Installation and Maintenance Innovators Awards. This is the third major industry award MicroCare Corp. has won in 2015.
The award, which recognizes the most innovative applications of cabling and communications technology products and systems, will be presented to MicroCare at the BICSI Summer Conference in Las Vegas in September 2015.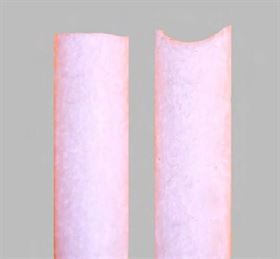 Photo, right: a standard Sticklers™ CleanStixx™ (left) has a flatter geometry than the new Expanded Beam CleanStixx™ (right)
Understanding the need to innovate and progress with the times, MicroCare designed the CleanStixx™ fiber optic cleaning sticks for expanded beam connectors. These connectors are critical as an enabling technology for robust optical networking in harsh environments, such as in broadcast, mining, military, oil field and aerospace applications. The requirement for high levels of reliability means that maintenance is a must, and the Sticklers™ cleaners were at the forefront with a technology to deliver perfectly clean fibre connectors in these difficult applications.
"On behalf of the Cabling Installation and Maintenance Innovator Awards, I would like to congratulate Sticklers™ Fiber Optic Cleaners by MicroCare on their Silver–level honoree status," said Cabling Installation and Maintenance Group Publisher Alan Bergstein. "This competitive program celebrates the most innovative projects in the structured cabling industry. We are pleased to celebrate Stickler's silver status and recognize their contribution to the industry."
The Sticklers™ family of fiber optic cleaning products is the industry's most complete set of cleaning tools. They are engineered to meet diverse industry needs ranging from the cleaning of individual connectors and patch cords, to cleaning massive outside plant installations, to cleaning enterprise and private network systems, or those within harsh environments.