MicroCare and Favarh Celebrate 5-Year Anniversary
February 04, 2020
MicroCare is pleased to celebrate its five-year partnership with The Arc of the Farmington Valley, Inc., more commonly known as Favarh. Favarh (pronounced 'FAY-var') is a local chapter of the Arc, the world's largest community-based organization for people with intellectual, physical and developmental disabilities. They provide a staffing service, matching workers with local business organizations.
Favarh and MicroCare joined forces on January 27, 2015 to staff the growing MicroCare product assembly department. The Favarh crew of workers and their job coaches specialize in packaging and assembling the Sticklers fiber optic cleaning kits and other MicroCare products. It is highly repetitive, yet complex and detailed work.
'The Favarh crew quickly became an integral part of the fabric of MicroCare. Since 2015 they have packaged millions of cleaning sticks and dry tub wipes! Products they package here in New Britain are shipped around the world and used used by our customers in China, India, Europe, South America, Mexico, Canada and, of course, the US.'
'The quality of the work the team does is second to none and supports the MicroCare promise to help our customers do their jobs, faster, better, safer and with the lowest cost per part cleaned. Our Favarh crew not only completes an enormous amount of work that contributes to our success but they bring an infectious enthusiasm and can-do attitude that enriches each of our lives every day. We are all proud that MicroCare can illustrate the benefits of having an inclusive workforce,' Gombos continued.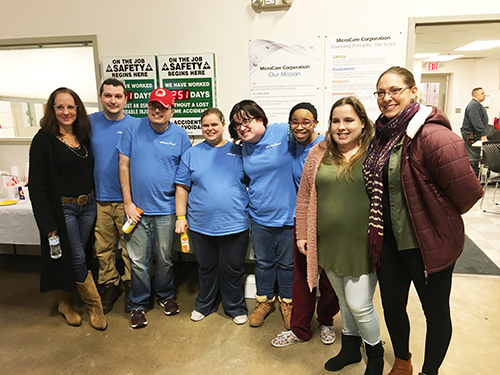 The Favarh team at the celebratory breakfast.
The MicroCare Favarh partnership provides the opportunity for adults with disabilities to experience the fulfillment of work, make a productive contribution to their community and economy, and generate income for themselves. It also provides MicroCare with a simple and effective way to manage staffing. And like MicroCare, Favarh encourages each person to achieve his or her personal best.
"The Favarh crew's work is extremely reliable and efficient. Simply by doing the good work they do the crew is breaking down the antiquated stereotypes about people with IDD," said Gombos.
The Favarh and MicroCare teams enjoyed a celebratory breakfast together where the Favarh team was presented with a photo collage to mark the special event.
'Today we celebrate the Favarh crew's accomplishments, thank you for the partnership, remember those who cannot be with us and look forward to many more years of working together. Happy Anniversary!' said Gombos at the event.
To learn more about how Favarh and the work they do, visit Favarh.org.