How Do We Dispose of the Aerosol Cans and Pump Sprays Once They Are Empty?
Safe disposal of cleaning fluids is important. Aerosol cans, pump sprays and bulk packages usually are considered hazardous waste in most communities. That's important because these packages usually contain small amounts of residual solvents which could contaminate ground water. It's important to keep those contaminants out of the landfills. So contact your local waste disposal expert and find our what's right in your community and with the regulations under which you operate.
Guaranteed to Empty Completely
That being said, MicroCare has a unique advantage. MicroCare guarantees that our cans will empty completely when you use them with the TriggerGrip™ dispensing system AND the Bench Mounting Kit. To be precise, we guarantee the cans will contain less than 2% of their original weight of solvent and may be classified as "DOT empty." In this mode, the disposal problems can be greatly reduced. Because only MicroCare has the Trigger Grip system, only MicroCare can offer you this cost savings.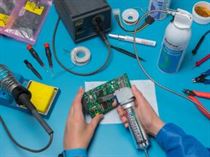 The TriggerGrip™ cleaning system connects to a MicroCare aerosol can and delivers fast, better and safer benchtop cleaning