What Does Vapor Degreaser Hardware Cost?
Equipment costs vary widely, so it's a little hard to provide an exact answer. It's important to note that these systems have incredible through-put. While a $100,000 aqueous system is on the small size, for the same amount of money you can get a complex, full-featured, high-capacity solvent cleaning system and still have lower operating costs. Here are some general guidelines that might be useful:
Vapor Degreaser Equipment Costs
A very small benchtop sized system with one cleaning chamber and holding less than two gallon/8 liters of cleaning solvent will cost about $20,000.
A small to medium-sized, floor-mounted batch system with two chambers and a water separator is going to cost about $50,000-$75,000. At the higher price the machine should include a hoist, advanced programmable controls and some extra cleaning features.
A large, floor-mounted batch system with three chambers and all sorts of bells and whistles is going to cost about $100,000.
A large, floor-mounted in-line system with the very highest capacities and speeds is going to cost more than $250,000.
A large, floor-mounted "zero emission" or "low emission" system is going to cost about $250,000. These systems are popular in Southern California.
Vapor Degreaser Installation Costs
Installation costs are a large part of the cost of any cleaning system. In addition to the actual cost of the machine, these costs include freight, site preparation and set-up costs. Most engineers also include building renovations, ventilation enhancements, electrical upgrades and water-treatment subsystems required to support the new system. For most degreasers these costs are almost invisible because vapor degreasers tend to be small and their infrastructure requirements are almost nil.
Another consideration is the actual cost of the space required by the cleaning machine and the support systems it requires. Since solvent systems are usually far smaller than aqueous and semi-aqueous systems many engineers skip this step, but a "footprint factor" of 4X would be a reasonable rule-of-thumb. To estimate floor space costs, call your financial people and ask them for the "fully-loaded per-foot costs" for the space in which you are interested. This usually will be expressed as a "triple-net" rent per square foot.
Total one-time costs should be "allocated" to reflect the productivity of the machine over its expected economic lifespan. For example, if the machine is planned to clean 10,000 parts per year for ten years, it will clean a total of 100,000 parts in its economic lifespan. The total one-time costs should be divided by the throughput (in this case, 100,000 parts) to calculate the true "total capital costs per part cleaned."
One-Time Capital Costs for Vapor Degreasers
Here is a short list of capital expenses to consider when selecting a vapor degreaser:
Cost of the Cleaning System Itself
Freight & Insurance to Get It Delivered
Site Engineering & Architectural Planning Costs (usually nominal)
Construction (usually nominal)
Electrical Changes (usually nominal)
Water/Plumbing (not normally required)
Ventilation (not normally required)
System Set-Up
Cost Per Square Foot of the Total Required Floorspace
Cost of Capital
For more ideas and suggestions, contact the manufacturers of the vapor degreasers and get their expert insights on the cost comparisons. Remember to ask about the numerous options and add-ons which can dramatically reduce the daily operating cost of a vapor cleaning system. MicroCare has prepared a cost-comparison worksheet in Excel format which can help illuminate the truth costs of different cleaning systems.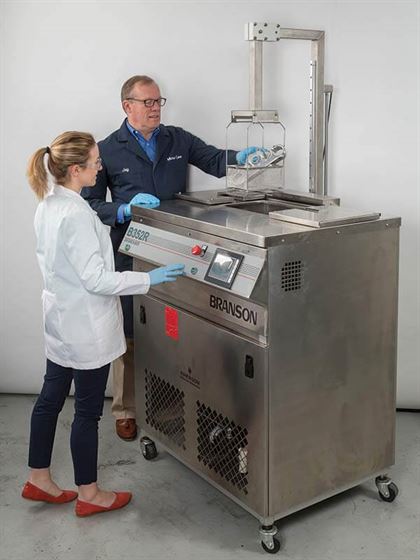 There are a number of accesories which can be added to vapor degreasers to improve cleaning performance and lower costs, including automated hoists (shown here), superheat, and ultrasonics in the rinse tank