What's the Best Way to Clean After Cleaving Fiber, Before Splicing?
Cleaning BEFORE cleaving is important, but not AFTER cleaving. There is nothing cleaner than the end-face of a newly-cleaved fiber.
Fiber never should be cleaned after cleaving. If you do, the fiber end-face will be contaminated. This will cause extra work for the fusion splicer in the pre-burn phase, shorten the lifespan of the units electrodes, degrade the mechanical strength of the splice in the form non-linear splices with bubbles, and cause excess signal losses.
If you're splicing, it's very important to clean the fibers before cleaving. A common misconception is that one does not need to be concerned about cleaning except at the very end of the connector assembly process. Not true. Cleaning the fiber ahead of time removes any remaining debris from the stripping process plus any other contaminants that may be on the fiber. Once the coatings have been stripped off from the fiber, it needs to be cleaned off with a damp, lint-free wipe. The liquid used to dampen the lint-free wipe must dry fast to prevent any liquid from remaining on the fiber. Learn more with this video.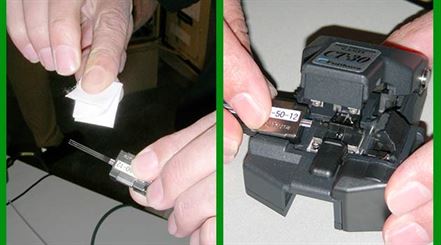 Cleaning bare fiber before cleaving is an excellent practice, but never clean AFTER cleaving