What's the Best Way to Clean PCBs at the Benchtop?
Almost everybody uses the dip-and-brush method to clean circuit boards during rework and repair. But this process doesn't work very well.
Other companies suggest you should use high-pressure aerosols and blast the contamination off the board. Which will work fine, if you don't mind buying lots of aerosol cans.
At MicroCare, we think the best way to clean PCBs is with the TriggerGrip™ cleaning system. We invented it after watching people try to clean PCBs using the older processes. The reason the TriggerGrip™ system works great is because it forces the benchtop techs to use the four-step cleaning process: Wet, Scrub, Rinse and Dry.
When you think about it, everything gets cleaned using these same four steps. Your car. The dishes in the sink. Your teeth. A baby in the bath, your hair in the shower in the morning, and so on.
So if everything is cleaned using wet-scrub-rinse-and-dry, why do we only use two steps (wet-scrub) when we try to clean circuit boards? Remember: if you can't rinse you can't clean. It simply doesn't work.
The TriggerGrip™ system allows you to obtain great cleaning quickly, easily and without a lot of chemical waste. Get one today!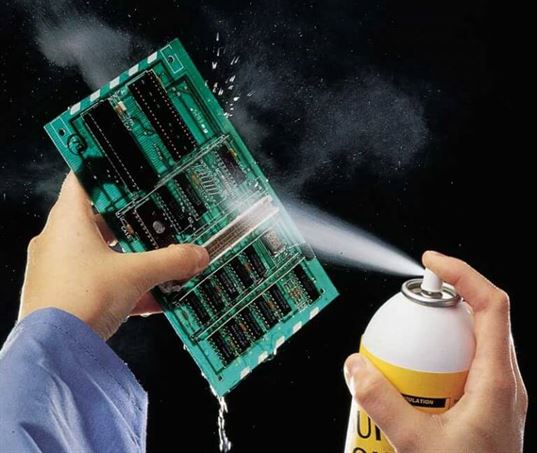 Messy aerosol sprays volatilize the cleaning fluid, exposing workers to fumes. The excess fluid also can puddle below the cleaning site, creating a flammability hazard if the solvent has flammable characteristics