TriggerGrip™ PCB Cleaning Kit
Product Information
The TriggerGrip™ PCB Cleaning Kit has all you need to clean PCBs faster, better, safer and more economically
Benefits:
Fresh pure fluid dispenses with each pull of the trigger to clean and rinse away contaminants
Cuts cleaning costs by emptying the can completely – no waste
Patented design reduces cleaning fluid use by 66%
Targets dirty areas and eliminates overspray
Cleans in seconds, boosting productivity by 5-9%
Improves the safety of the work environment by limiting annoying fumes
Conductive so it enhances your ESD control program
​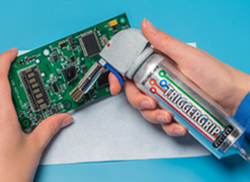 Features:
Convenient starter kit — everything you need to get started
Excellent value — Generally saves about 35% over items priced individually
Durable and reusable, fits most MicroCare aerosols
Kit Includes:
Simply connect the TriggerGrip™ PCB Cleaning Tool to a can of MicroCare aerosol cleaning fluid and start cleaning PCBs better, faster and more economically. Ideal for cleaning after rework and repair, especially with hard-to-clean lead-free materials. The TriggerGrip™ PCB Cleaning Tool ensures you perform all four steps necessary for successful cleaning — wet, scrub, rinse and dry. The cleaning power of the fresh, pure solvent is increased with the mechanical scrubbing action of the brush. Also known as the Solvent Miser, the TriggerGrip™ uses less cleaning fluid, slashing cleaning fluid consumption up to 50-66%. The SuprClean™ Heavy Duty Flux Remover cleans circuit boards thoroughly. Lint-free Wipes dry boards well without leaving fuzz behind. Plus, a bench mounting bracket safely keeps the can of cleaning fluid handy and ready-to-use. Special note: the cleaning fluid selection varies outside of North America to conform with local regulations. Custom versions are also available. Learn More with the TriggerGrip Quick Start Training Video.
Product Details
Product Image

Part Number
Package
Weight
Size
Technical Data Sheet
Safety Data Sheet

CBCSK

MCC-CBCSK
Each Kit
Scroll