MicroCare Doubles Our Presence at MD&M West
February 11, 2019
The 2019 edition of the Medical Device & Manufacturing (MD&M) West show in Anaheim, CA has just concluded. The consensus of the MicroCare team is that it was a very busy, very successful show. The MD&M West expo is an enormous show with a global presence. It completely fills the 800,00 square feet (approx. 81,000 sq. meters) of exhibit space available at the Anaheim Convention Center. Traffic was heavy and we had the chance to meet with many of our existing customers from around the globe including the USA, Canada, Mexico, Latin America and Asia. There were also many interesting opportunities to work with new clients.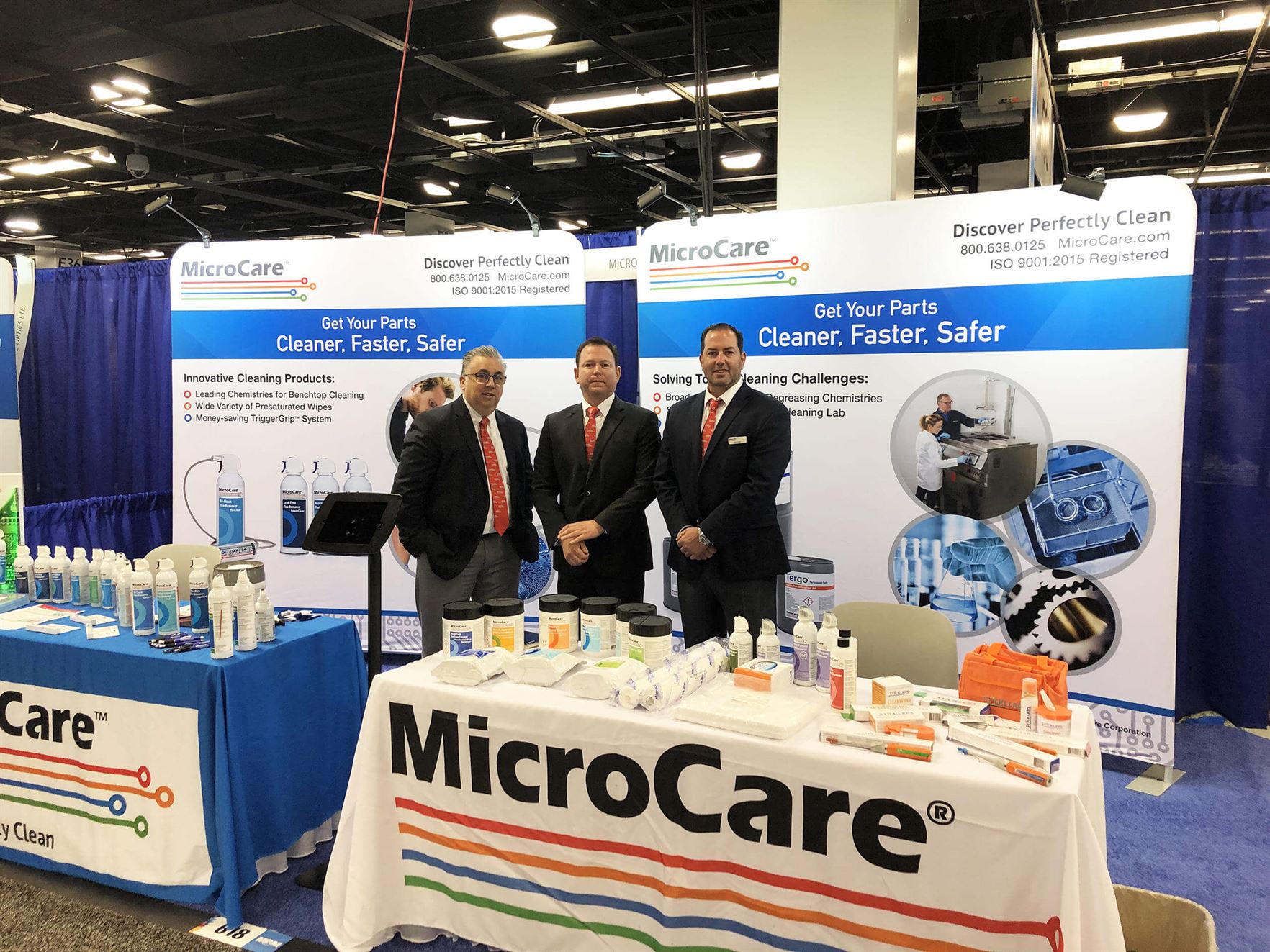 Building on last year's success, MicroCare operated two entirely separate booths featuring different products again this year. The first booth was in the Electronics Pavilion manned by Dan Sinclair, Ernesto Pollano and Keith Sanducci. Electronics are a vital component in today's modern medical devices and the proper cleaning of PCBs leads to better performance from these demanding electronic designs. At this venue, MicroCare showcased products for PCB cleaning. There was heavy, consistent quality traffic and interest in our products including our line of flux removers and the TriggerGrip cleaning system. We also displayed some of the Sticklers™ line of fiber optic cleaning fluids and tools.
The other booth was in the medical device pavilion, directly above our electronics booth. There we featured the precision cleaning fluids and Duraglide™ dry-film lubricants from MicroCare. David Ferguson, Don Phifer and Mike Arpin met a number of existing customers at the booth where we discussed our cleaners and lubricants to prospective new users who were not aware of the capabilities of modern fluorinated cleaning fluids.
Having the two separate booths allowed MicroCare to deliver the right information and products to each type of customer, whether it was electronics or medical, but then to also make referrals to our alternate booth and products when they inquired about those products too.