MicroCare Doubles Our Success at This Year's MDM West Expo
February 15, 2018
The 2018 edition of the Medical Device & Manufacturing (MD&M) West show in Anaheim, CA has just concluded. The consensus of the MicroCare team is that it was a very busy, very successful and very exhausting show. The MDM West expo is a massive show with a global presence. It completely fills the 800,00 square feet (approx. 81,000 sq. mtrs) of exhibit space available at the Anahiem Convention Center. Traffic was heavy with most exhibitors reporting seeing many new faces in addition to the normal repeat visits from existing customers and clients. At the MicroCare stand we had visitors from the USA, Canada, Mexico, a handful from Latin America, a number from Asia and even a few from the EU. It's simply a great event.
MicroCare did something a little bit different this year and actually operated two entirely separate booths, featuring different products. The first stand was in the Electronics Pavilion next to the Visitor Registration Desk. This is important because electronics are a vital component in today's modern medical devices and the proper cleaning of PCBs leads to better performance from these demanding electronic designs. At this venue, MicroCare was the dominant player showcasing products for PCB cleaning, and there was heavy, consistent quality traffic and interest in our products.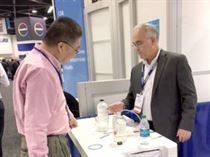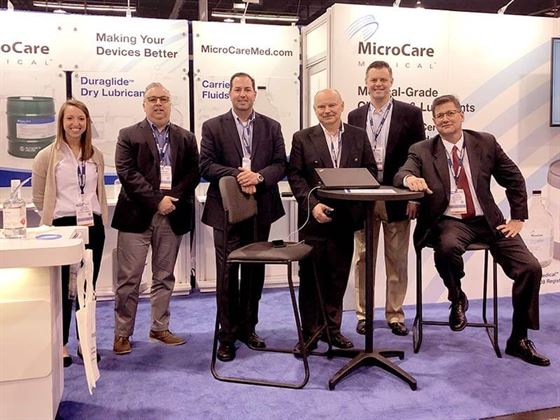 The MicroCare team at MDM West 2018; (l-r) Emily Peck, Senior Chemist; Keith Sanducci, Dan Sinclair, Dave Ferguson, Kevin Marion, and Don Pher.
The other booth was a twenty-foot display (about 6 meters) in the medical device pavilion. There we featured the precision cleaning fluids and dry-film lubricants from MicroCare. We met a number of existing customers at the booth but, even more importantly, we demonstrated our cleaners and lubricants to dozens, maybe even hundreds, of prospective new users who were not aware of the capabilities of modern fluorinated materials. It was an eye-opener for many, to be sure.
If you would like to learn more about the MicroCare Medical cleaners and lubricants, contact us and we'll get you the details you need.