MicroCare Scores Many Goals at Productronica 2017
November 17, 2017
The enormous Productronica 2017 Expo has been a very good show for Team MicroCare — perhaps the best Productronica since the financial crisis, and maybe the best electronics industry expo in decades. Visitors were thick on the ground and they had budgets to spend.
For example, on Thursday (normally a slower day) the booth was jammed from the opening bell until the lights went out. We were so busy that nobody was able to leave the stand for lunch. In the end, the team phoned for some Chinese take-out and had it delivered right to the stand!
MicroCare had a large number of meetings with new end-users. This is always important, and we were pleased we had so many opportunities to introduce visitors to the MicroCare family of products. We also explained the new REACH and F-Gas rules and confirmed that MicroCare products will remain compliant as the rules evolve in the years ahead. We also met a large number of our current distributors and many new potential distributors, including Europe, South Africa, Russia, Australia and Israel.
Scott Wells and Steve Playdon did a masterful job of organizing the stand, handling the sales leads, and training distributors and the end-users. Our two translators, Mariam and Natalie, were wonderful hostess and made everyone feel welcome. The "support staff" from America included Bill Kushner, our new Global Product Manager; Venesia Hurtubise, East Coast Regional Sales; Mike Jones, MicroCare Vice President, and Dan Sinclair, National Sales Manager. Between the eight of them they were able — just able — to keep up with all the visitors, meetings and demos.
One particularly fun moment occurred when Venesia Hurtubise was engaged with a video interview with Global SMT magazine, simply captivating Editor Trevor Galbraith with her smile and expertise. He asked her the chemical composition of the new Tergo™ Chlrine-Free Cleaning Fluid. Rather than give Trevor an answer that would be accurate but neither he nor most viewers would understand, she simply replied, "Magic pixie dust — it works great!" Venesia even made it into the "Show Daily" newspaper (see photo).
MicroCare also brought home an award from Global SMT Magazine for the most innovative new cleaning product introduced in 2017.
All in all, this was simply an awesome show.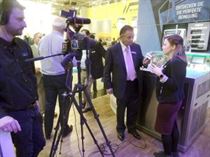 Venesia Hurtubise, MicroCare Sales, explains vapor degreasing to Global SMT Editor in Chief Trevor Galbraith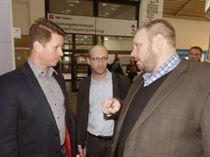 Scott Wells, MicroCare Sales Manager for Europe, speaks with two visitors from Slovakia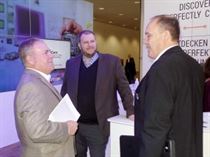 Bill Kushner and Scott Wells explain critical cleaning with a visitor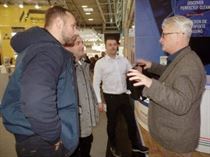 Steve Playdon, MicroCare Sales, chats with more visitors at the stand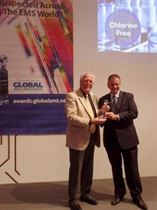 Mike Jones (left) accepts the Global SMT Award for Best New Cleaning Product for 2017 from Trevor Galbraith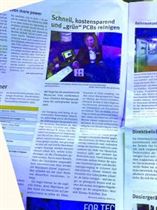 Venesia made it into the Show Daily!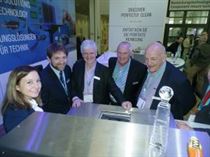 More visitors to the stand, checking out the capabilities of vapor degreasing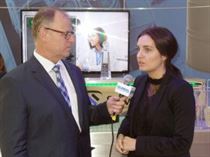 Miriam (right) made a wonderful presentation in German to a broadcaster at the expo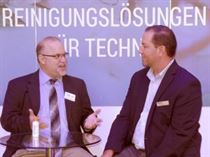 Dan Sinclair, right, chatted with Art Roberts from the USA