New Offices for the Inside Sales Team at MicroCare
October 30, 2017
Several months ago MicroCare started on a major update to the administrative offices at the company. The first step in this project was the remodeling of the MicroCare offices at the Production Court location in New Britain, CT. Those offices were old and dreary, without all the modern conveniences you find in a first-class office. This first phase has been completed and everybody who have seen the new "digs" are quite impressed with the results. The new Human Resources offices are spacious and well-organized, with new offices, interview rooms and spaces for confidential conversations. Meanwhile, the entire Inside Sales team also has relocated to Production Court and their new offices are equally impressive. All the work spaces are new, with easy-access electrical connections and feature electronically-adjustable stand-up desks. There also are more conference spaces, a handsome cafeteria, brighter but more energy-efficient LED lighting, and many more windows than in the old facility.
In short, the owners and executives of MicroCare really value our employees. They know the success of the company is mostly due to all of the brains and energy of our staff, and the enthusiasm they bring to the job every day. We want all the employees to enjoy working at MicroCare and be proud of their environment. It's just another way MicroCare continues to innovate and remain a premier place to have a great career.
Coming up next: the old office spaces on John Downey Drive get a make-over, including a full-featured video conferencing set-up.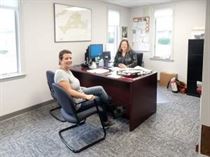 Kellie Labiniec and Heather Gombos enjoy a quiet moment of conversation in the new Human Resources offices at MicroCare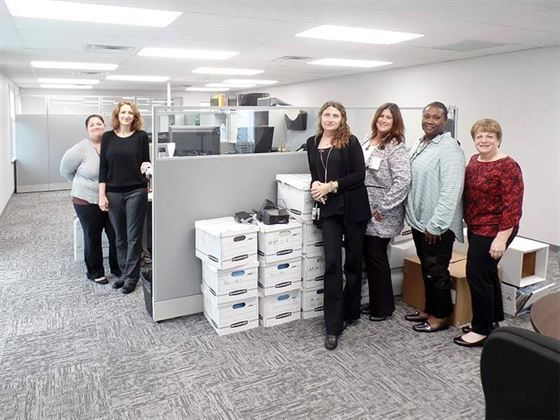 It's moving day for the Inside Sales team. Here, Amy Mancini, Mirela Omerbasic, Kim Romano, Katie Nelson, Mimi Douet, and Robin Ives all explore the handsome new office spaces.