Vapor Degreasing Captures Interest at Southern Electronics Show
February 13, 2019
The Southern Manufacturing & Electronics 2019 show in Farnborough, UK wrapped up on February 7th. Southern Manufacturing is an electronics and engineering specific show which MicroCare Europe has participated in for the past several years with great success. This year was no exception.
Held in Farnborough, near London, it is an excellent venue located in the heart of the British aerospace industry and the birth place of aviation in the UK. It is also the site of the world-renowned air show.
Attendees included engineers, production managers and procurement professionals from the defense, automotive, electronics assembly, medical and metal processing industries. Visitors to the MicroCare booth included MicroCare distributors and product end-users from all over the UK.
The bold, graphic MicroCare booth stood out in the crowd, differentiating MicroCare from our competitors and strengthening our brand.
In addition to our popular benchtop cleaning fluids, there was a vapor degreaser on-hand for demonstrations. The purpose was to educate visitors about the processes involved in this fast, reliable, simple and consistent cleaning method. "It is very exciting to see the building interest in the vapor degreasing technology," noted Scott Wells, MicroCare General Manager, Europe.
"MicroCare is attracting significant interest in vapor degreasing from metal-working companies, medical device makers and electronics manufacturers throughout the UK," continued Mr. Wells. "Our environmentally-friendly vapor degreasing fluids meet the strict UK and European environmental standards, making them a viable option to aqueous cleaning."
"Not only are companies interested in using vapor degreasing for cleaning PCBs and for smoothing during 3D printing operations, but there is growing interest in using The MicroCare Tergo™ Metal Cleaning Fluid for debinding as well."
One conclusion we heard from many visitors at the show was that advances in manufacturing and technology continue to grow at a ferocious rate, making the need for cost-effective critical cleaning even more urgent for companies to keep up.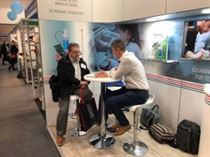 Liam Taylor chats with a visitor.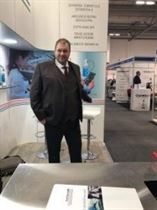 Scott Wells, General Manager, Europe at the Southern Electronics & Manufacturing Show.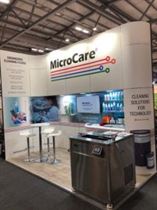 The modern, graphic booth stood out from others at the show.