Are Water Based End Face Cleaners Suitable for Fiber Optics?
The short answer is no.
Water based end face cleaners are generally unsuitable for fiber optics. These products tend to be weaker cleaners and have high surface tension and low viscosity, which minimizes their effectiveness. Water based end fiber optic cleaners usually will not dissipate any static which locks particulate on to end faces. In cold ambient temperatures, the water will freeze in the container or on the end-face or in the alignment sleeve. How are you going to clean when your 'solvent' is frozen?
I realize some companies are in places which rarely experience freezing temperatures. The true Achilles heel of water based cleaners is the slow evaporation rate. Aqueous products just are too slow to dry and can leave moisture on the end-face. Field techs also are frequently cleaning residues from end-faces which have come into contact with rain, snow, coastal fog, and dew. Water doesn't remove water very well. And, if the tech doesn't get all the water completely wiped off the end face or fiber, any remaining water moisture will capture surrounding contaminates which will leaves a water-spot behind when the water does finally evaporate. When you clean a fiber or connector, you want to do it rapidly and with a minimal amount of cleaning fluid.
In extreme cases with high power lasers, a little bit of water on an end-face will instantly convert into steam, causing a small explosion through the sudden expansion of the vapors which can destroy the connector and surprise the technician.
For customers who are working with transceivers or active equipment with electrical circuits, too much water also could get into the wrong place and may short-circuit an PCB or corrode leads.
Oddly, one of the principle makers of water based fiber optic cleaners has a video available on-line that shows operators using the product while wearing gloves. We're not sure why protective clothing should be required for these products but that's another reason to avoid them.
In short, avoid aqueous (water-based) fiber optic cleaners. Look for fast-drying, high-purity fluids formulated, packaged and labeled specifically for cleaning fiber optics.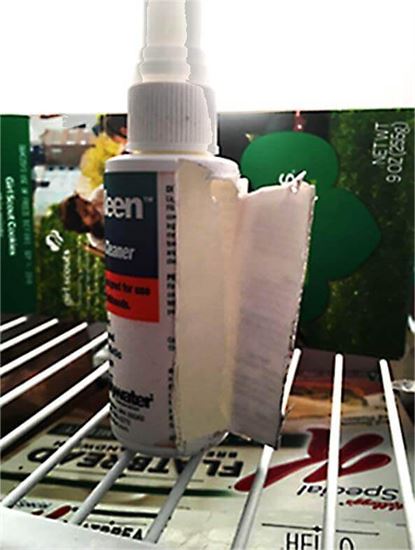 Water based fiber optic cleaning fluids are a poor choice for a number of reasons, but one of the most obvious factors is that water freezes. In this photo, an aqueous cleaner has frozen solid after a night in a household refrigerator. This could easily happen in a truck or tool kit in a colder climate