Can I Get Stencil Wiping Rolls from MicroCare?
Absolutely. MicroCare offers a full line of standard, OEM-compatible wiping rolls. MicroCare offers stencil rolls for every popular make and model of stencil printer. These will fit the MPM/Speedline family of printers, plus Ekra, DEK, Panasonic, Fuji and others. If you have an unusual machine, we would be pleased to develop a roll that will fit it. MicroCare features the MicroWipe™ FP paper for fine-pitch stencils. MicroWipe™ FP paper is available exclusively through MicroCare.
Other paper and wiping products from MicroCare include a full line of presaturated wipes, which are often used for stencil wiping, and flat wipes for incidental cleaning in the production areas.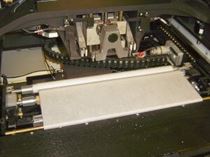 The understencil wiping roll, installed on an MPM UP2000 printer