Can I Use "Reagent Grade" High Purity IPA to Clean My Fiber?
Some companies buy the purest IPA they can get, which is called "reagent grade" IPA. They use this to try to solve the fiber cleaning problem.
But I believe that the purchase of 99.9% "reagent grade IPA" is a waste of money and effort. Here's the 'little secret' about reagent-grade IPA: since it is the most pure it also is the most hygroscopic. 99.9% "reagent-grade IPA" will reduce itself to "drug-store" purity long before the container is emptied.
Unless the techs are buying reagent-grade IPA in a hermetically-sealed container and using it under very controlled conditions (such as protecting it with a nitrogen blanket to control moisture absorption) your company is just wasting money.
Plus, even if they do all that, it still doesn't change the other problems with IPA alcohol, such as the slow-drying nature and the flammability and the smell.
In short, IPA is yesterday's news. It's time to upgrade to cleaning fluid engineered for fiber optic end face cleaning.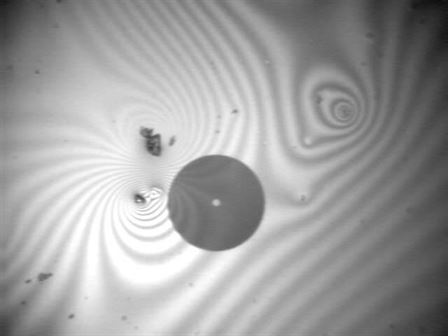 This photomicrograph shows the diffraction pattern of a thin liquid contamination on the end-face, most likely alcohol