Can't Use IPA — So What Else Is There? What Can I Use to Clean My Fiber Networks?
Fiber optics need fast, consistent and reliable cleaning for optimal operation. The selection of a cleaning fluid is a complex trade-off of many attributes: cost, storage, handling, purity, actual cleaning ability, drying time and worker safety to name a few. Modern, nonflammable fluids are the best choice to ensure a clean surface that is optimized for ultra-high speed and ultra-capacity fiber optics.
Technicians should seek out cleaning fluids that have the following characteristics:
Engineered specifically for cleaning fiber
Packaged in sealed, nonrefillable containers (to prevent cross-contamination and spills)
Nonflammable, for maximum safety
Plastic-safe
Nontoxic, with a good environmental profile
Fast evaporation
No residues
Do not contain water
Air-transportable as nonhazardous
The Sticklers™ Fiber Optic Splice & Connector Cleaner Fluid (#MCC-POC03M) is the leading product in this class. The Viavi CleanBlast Fluid is an excellent choice as well. Both are available from your Sticklers distributors.


The Sticklers® cleaning fluid is nonflammable, fast-drying, residue-free and engineered for cleaning fiber optic end-faces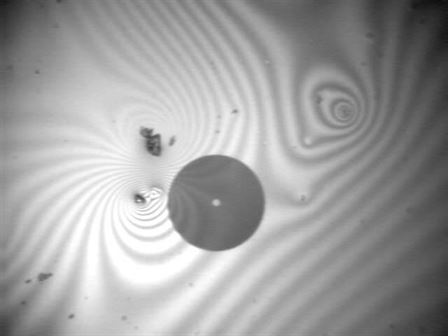 This photomicrograph shows the diffraction pattern of a thin liquid contamination on the end-face, most likely alcohol residues from improper cleaning