How Does Contamination Cause Signal Loss Between a Mated Connector Pair?
Optical fiber is a precisely engineered optical medium with very exactly engineered refractive indices. Obviously, opaque contamination will simply block the light signal and must be removed. But many techs don't realize that translucent residues — like oils or fingerprints or even droplets of IPA alcohol — degrade the signal as well.
In fact, translucent residues in the signal path change the refractive index of the transmission medium because the optical signal is traveling through different media. The residue will have different refractive index than the glass core of the fiber ('chromatic aberration'). Some of the signal's wavelengths will disperse unpredictably (see photo, below) which means the signal will be degraded because of these different refractive indices.
So it is important to clean both ends of the mated endface pair before connectiong.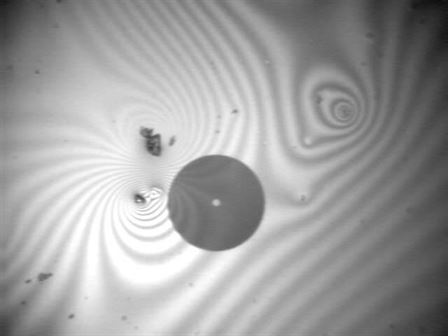 This photomicrograph shows the diffraction pattern of a thin liquid contamination on the end-face, most likely alcohol