How Long Does a Can of MicroCare Cleaning Fluid Last?
The life span of an aerosol can being used on the benchtop varies by the amount of cleaning that is performed and the skill of the operator doing the cleaning. But — and this is important — the key is to let those operators use the TriggerGrip™ dispensing system. In general, the TriggerGrip™system will double or even triple the life of an aerosol can. This means in a normal manufacturing environment, where a old-fashioned high-pressure aerosol might last 2-3 days working days, a can of Lead-Free Flux Remover – PowerClean™ will last 5-6 days, No-Clean Flux Remover – VeriClean™ will last typically 8-10 working days, and a can of the slower-drying Alcohol-Enhanced Flux Remover – ProClean™ might last 15-20+ days.
In addiiton, to maximize can life and maximize savings, you should switch (whenever possible) to the slower-drying solvents. Since these fluids evaporate more slowly, operators have more time to work with the solvent, so consumption declines. Almost always, slower-drying fluids are flammable so there is a trade-off in economics and safety.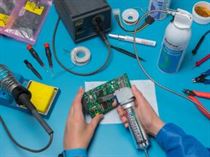 The TriggerGrip™ cleaning system connects to a MicroCare aerosol can and delivers fast, better and safer benchtop cleaning