How to Clean FTTA Networks Fiber Connectors?
The world is going mobile, and that means FTTA networks with high-bandwidth connectivity are required to service all the cell phones and tablets with "anywhere, everywhere, every time" service. This demand is overloading the old-style cellular networks that used copper connectivity to the local radio antennas. As a result,I've been getting a lot of questions lately on which Sticklers™ products would be recommended for Fibre To The Antenna Networks (FTTA). Companies around the globe are deploying fiber right up the towers and directly to the antennas.The larger companies making FTTA gear are Samsung (Korean), Huawei (Chinese), Ericsson (Swedish) , ZTE (China), Amphenol Antenna (USA) and Nokia Networks (Finnish).
For the best results in these sophisticated, geographically diverse, but widely distributed FTTA installations, it is essential that all the fiber end-faces be perfectly clean.
I include with FTTA networks another technology, the Hybrid Fibre CoAx (HFC) networks. These are the types of networks which Multiple Systems Operator (MSO) or cable television carriers would offer. From a technical perspective, the optical portions of a FTTA and HFC are very similar until you reach the last node. For example, Comcast and Australia's National Broadband Network (NBN) are using CoAx drops from the last node into the demarcation box in the building in their HFC or Fibre To The Node (FTTN) design. In contrast, Verizon and CenturyLink usually use a fibre drop from the neighborhood node right to the demarc box on the side of the building. Either way, the network links are still heavy with SC/APC (2.5mm based) connectors. Clean these with the 2.5mm CleanClicker™ tool (#MCC-CCU250), the 2.5mm CleanStixx™ (#MCC-S25) and CleanWipes™ 90 benchtop lint-free wipes. Naturally, all of these work better with the Sticklers™ fiber cleaning fluid (#MCC-POC03M or -POC10M).
In contrast, the 5G and 4GLTE networks are heavy with LC duplex connectors in the base station and pedestals. The main connectors used for interconnecting the next gen active antennas with the optical interface are using the ODC series connectors which have a 1.25mm termini using a pin-and-socket configuration. (ODC is a trade name by Huber+Suhner.) The other term often used describes two types of hardened 1.25mm based connectors which are "RDC" which is made by Roisenberger (German) and "AARC" made by Amphenol (US). Clean these with the 1.25mm CleanClicker™ tool (#MCC-CCU125), the 1.2mm CleanStixx™ (#MCC-S12) and CleanWipes™ 90 benchtop lint-free wipes. Again, wet-dry cleaning with the Sticklers™ fiber cleaning fluid (#MCC-POC03M or -POC10M) helps all this cleaning work best.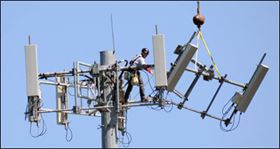 A worker on a cell phone tower often will need to install, upgrade or repair fiber optic connections even when they are hundreds of feet above the ground. Sticklers™ cleaners can help