My Fiber Cleaning Tools Have Static Charges. Should I Be Worried?
The issue of static charges on fiber tools is interesting. Static on fiber cleaning products are only an issue if the work environment involves the manufacture of electronics. This is because many electronics manufacturers have an ESD control program that restricts materials at the workbench. The maximum allowed on the workbench is a static charge of 150 volts. If you are not working in electronics assembly, this requirement for static dissipative materials does not apply.
That being said, if compliance with an ESD program is the goal, no major manufacturer will have a compliant product. All of the materials of construction (as well as packaging) use polymers that may exceed the 150 volt threshold. To become ESD-safe (electrically conductive) these plastics would need to contain an anti-static compound. Those compounds used in those plastic polymers leach out, on to fingers and desktops. They can transfer from the cleaning stick to an end-face, and become contamination.
But static IS an issue on the end-face. Electrostatic charges on an end-face will attract dust to the end-face and lock the dust in place, making cleaning very difficult. The dust then will degrade the optical signal. Eliminating this static greatly improves cleaning and network performance.
The optimal control of static charges is typically achieved by the use of a static-dissipative cleaning fluid, along with the appropriate cleaning tools. That's why we invented the Sticklers fiber optic cleaning fluid. If the tip of a Sticklers™ cleaning stick has been properly treated with the Sticklers™ cleaning fluid prior to cleaning, the presence of a static charge is minimized to well below 150 volts and assures proper cleaning performance.
If compliance with an ESD program is the issue, use a CleanClicker™ push-to-clean tool (photo, right). The standard 1.25 and 2.5 mm CleanClicker tool (without the dust cap) does provide static dissipative properties that should pass an ESD control program.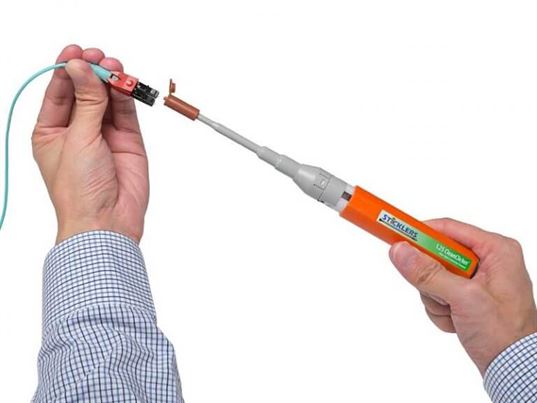 CleanClicker tools can clean both jumpers and ports, using a special adapter tip to align the cleaning tool with the exposed termini of the jumper