My StatZap™ No Longer Fits on My Micro•Blast™ or Big•Blast™ -- What's Up With That?
The StatZap™ ESD (Electrostatic Discharge) Eliminator is a small tool that fits on most MicroCare aerosol cans and replaces the red plastic spray tube often used on aerosol sprays. The StatZAP™ reduces the static charge produced by fast-moving liquids to a harmless 50 volts. Made from aluminum and stainless steel, the StatZAP™ is probably the best $6 insurance policy money can buy.
However, someof the precision dusters from MicroCare are not compatible with the StatZap™. The General Purpose Dust Remover (#MCC-DST and -DST14A) is equipped with new, high-pressure spray valves. This new valve gives these products more "pushing power" to blow dust and lint from hard-to-reach places. But, these new valves are not compatible with the StatZap™ tool.
The StatZap™-compatible valve is solid white plastic (see photo, right). The new high-pressure valve is translucent plastic with three small vents on each side.
If you want dusters with the StatZap™, simply order the product with the old, tradition, StatZap- compatible valve. The part numbers for the StatZAP™ compatible valve are MCC-DSTZ and -AIRZ for General Purpose Dust Remover.
Both versions of the freeze spray products (the regular version and the 'anti-stat' version) are compatible with the StatZap™.
The TriggerGrip™ cleaning tool also is ESD-safe and eliminates static when cleaning during rework and repair.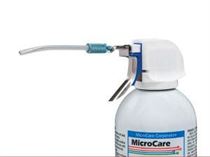 The StatZAP™ is a handy tool that reduces the risk of electrostatic damage to PCBs