Wet-Dry Cleaning — What Are the Advantages? Is It Really Better?
As people became aware of the problems with IPA alcohol, many folks discontinued the use of solvents and went with dry cleaning only. However, dry cleaning has been proven to be less than desirable. As it turns out, wiping dry on a fiber end-face will generate a static charge (technically known as a triboelectric charge) on that end-face that is extremely difficult to dissipate. Both IPC and iNEMI agree, wet-dry cleaning delivers a cleaner connector and a more robust network.
During the development of the IPC-8497-1 fiber optic standard, tests showed that cleaning with a dry wipe creates a triboelectric static charge on the connector end-face. The tiny fiber optic end-faces then act like a magnet (microscopically speaking, of course) and attract airborne particulates precisely to the center of the fiber core. These particulates re-contaminate the end-face and can destroy the performance of a network. This effect has been observed to occur in as little as 60 seconds.
This problem can be managed or even eliminated by wetting the wipe with a static-dissipative cleaning fluid and then wiping the end-face from wet to dry area of the wipe. Sticklers cleaning products have been engineered specifically to dissipate static and make "wet-dry" cleaning fast and easy.
The static charge on a connector end-face will attract unwanted airborne particulate and dust to the connector end-face. The condition will be exacerbated in dry conditions (low humidity) such as winter cold or desert heat. In effect, static on a fiber connector turns the contact area of the end-face into a magnet, attracting dust right to the center of the end-face where it will do the most damage.
Cleaning with a conductive fluid enables the static to be dissipated and particulate will not be attracted to the end-face.
(See: Accumulation of Particles Near the Core During Repetitive Fiber Connector Matings and De-matings by Tatiana Berdinskikh and Jeno Chen of Celestica In-ternational Inc.; John M Culbert of Megladon Manu-facturing Group Ltd.; David Fisher of Tyco Electronics; Sun-Yuan Huang of Intel Corp.; Brian J. Roche of Cisco Systems, Inc.; Heather Tkalec of Alcatel Corp.; and Douglas H. Wilson and Steven B. Ainley of PVI Systems Inc.; presented at NFOEC 2007).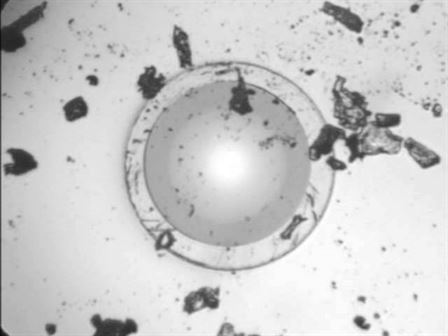 This end-face is contaminated with hard-edged particulate, which may be dust or sand particulate. Very dangerous for end-faces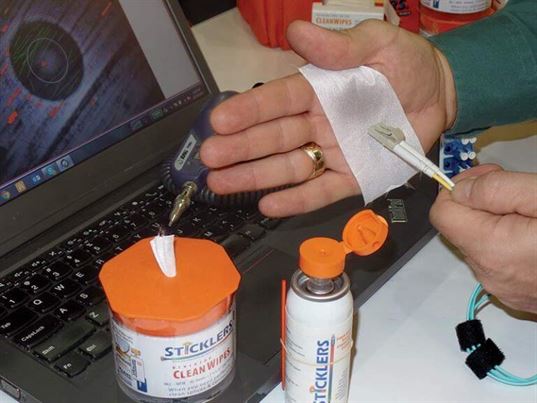 This tech has just finished cleaning a duplex connector using a CleanWipe fabric and the Sticklers® cleaning fluid. Notice the damp spot on the wipe