Product Information
The Reflow Oven Cleaner keeps ovens at their peak performance
Applications:
Ideal for preventative maintenance
Melts away burned-on flux residues from SMT wave solder machines and reflow ovens
Cleans solder pallets, baffles, heating elements, clamps, chains, drive gears and housings, wave fingers and heat exchange units
Use in dip tanks and ultrasonic cleaners or with hand wiping
Use on warm ovens (105° F)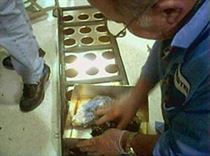 Cleaning reflow ovens — in this case, a Heller unit — can be a challenge because of the flux residues that coat the inside of the machines
Features:
Speeds cleaning of ovens even when warm
Activated by the residual heat of the oven
Four times faster than IPA (isopropyl alcohol)
Cleans all solder paste and flux residues, including RMA, no-clean and lead-free products
Nonflammable for safety
Non-foaming, leaves no residue
Chemical Family: Water-based
Low aroma
Made with water, alkaloids and proprietary long-chain alcohols
VOC content: 50 (g/L)
Low GWP
RoHS/WEEE/REACH/EPA SNAP compliant
Because this reflow oven cleaner is nonflammable you can clean the oven while it is still warm, saving time and enhancing the cleaning because warm solvents clean better than cold ones. This product is so much stronger than IPA alcohol that it slashes oven cleaning times 50% or more while improving cleaning results.
Cleaning is Easier over time:
Plus, Reflow Oven Cleaner avoids one of the big problems of alcohol cleaners — the curing and hardening of flux residues in the oven. So, cleaning actually becomes easier over time. Suitable for use in hand wipe applications or ultrasonic tanks, this cleaner reduces equipment down-time and lowers cleaning costs.
Convenient Packaging Options: The popular 'cubitainers' are easy to store on a shelf and feature a faucet-like valve so the fluid can be dispensed without lifting the container. Use with MicroCare lint-free cleaning wipes (MCC-W11) for best results. The noncorrosive fluid is ESD-safe and is safe to use on all metals, synthetics, plastics and elastomers. Money-saving, refillable pump-spray bottle is not TriggerGrip™ compatible.
Product Details
Product Image

Part Number
Package
Weight
Size
Technical Data Sheet
Safety Data Sheet

ROC

MCC-ROC
Pump Spray

0.34 kg

0.75 lb.

354 ml

12 oz.

ROCG

MCC-ROCG
Mini-cubitainer

3.17 kg

7 lbs.

3.8 L

1 Gallon

ROCP

MCC-ROCP
Cubitainer

13.6 kg

30 lbs.

19 L

5 Gallons

ROCD

MCC-ROCD
Drum

198 kg

436 lbs.

208 L

55 Gallons
Part Number
MCC-ROC
MCC-ROCG
MCC-ROCP
MCC-ROCD
Package
Pump Spray
Mini-cubitainer
Cubitainer
Drum
Weight

0.34 kg

0.75 lb.

3.17 kg

7 lbs.

13.6 kg

30 lbs.

198 kg

436 lbs.

Size

354 ml

12 oz.

3.8 L

1 Gallon

19 L

5 Gallons

208 L

55 Gallons

Technical Data Sheet
Safety Data Sheet
Scroll