Sticklers Fiber Cleaning Tools Light Up BICSI Winter
February 13, 2018
The Sticklers™ team made a big, bright impression on the visitors at the BICSI Winter Expo in Orlando Florida last week (Feb. 5-7, 2018). The show was very busy — overall attendance was up, as were the number of exhibitors. The Sticklers™ booth was large, bright and well-equipped to showcase a variety of datacom cleaning applications. A video on the left-side of the stand explained the Sticklers™ products and demonstrated their uses. Dozens and dozens of attendees stopped at the stand to discuss fiber cleaning.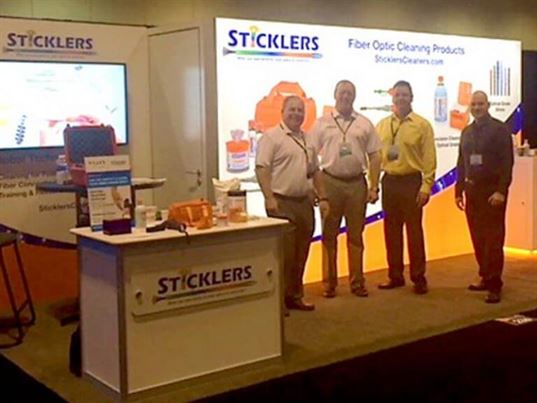 The Sticklers™ team put it's best foot forward at the BICSI event this February. L_R: Bill Kushner, Jay Tourigny, Rick Hoffman , Brian Teague
The Viavi exhibit was across the aisle and both companies offered inspection and cleaning demos to show how quickly and consistently we can clean optical connectors. (Remember: it's Inspect – Clean – Inspect, every connector, every time!) Sticklers was Silver Level sponsor at the show this year and sponsored the fiber cleaning portion of the BICSI Cabling Skills Challenge program. 200-300 attendees participated in the challenge using our products.
"Probably the biggest attraction at our stand, outside of the bright graphics, were are large array of fiber cleaning kits," reported Sticklers Product Manager Brian Teague. "Every application needs a slightly different set of cleaning tools, and only Sticklers™ seems to have every combination that people need."
At the climax of the show, the Sticklers™ team raffled off two of the hard-case inspect & clean kits, MCC-FK016. These kits are equipped with all the Sticklers™ cleaning products and enhanced with Viavi inspection scopes & tips. The value of each kit was $5,250, which everybody agreed was a pretty amazing raffle prize.