Are MicroCare Precision Cleaners Mil-Spec Approved?
No, the products are not "mil-spec approved" because old-style "military specifications" no longer are used. But that doesn't mean the military, NATO, or military suppliers aren't using the MicroCare solvents.
The Evolution of Cleaning Specifications
In the old days, say the 1960s, when governments decided they needed a new jet, missile or submarine the military would define every aspect of the manufacturing of that system. These specifications included the types of solvents which were acceptable to use when cleaning the components. For electronics, the most popular specification was WS-6538 and the most popular solvent was Freon, which is the solvent CFC-113. It was a big ozone-depleter and was banned in the 1980s.
In the 1990s the military, in conjunction with the I.P.C., developed MIL-STD-2000 as the first of the performance-based cleaning specifications. In effect, MIL-STD-2000 allowed the manufacturer to use any solvent they wanted, provided they could prove the new cleaning method was at least as good as the old cleaning method. One good benchmark was to switch from Freon to Genesolv 2004, which was less harmful to the ozone-layer. Customers would perform before-and-after benchmark tests and compare the results. If the cleaner worked well they were free to use newer, more environmentally-friendly cleaners.
Today, even MIL-STD-2000 has been rendered obsolete by more sophisticated "performance based" standards and "SNAP" approvals from the E.P.A. in the USA. In the place of the old specs, many military manufacturers have adopted MicroCare cleaners because they deliver fast, consistent and affordable critical cleaning that meets or exceeds the requirements of the old military standards.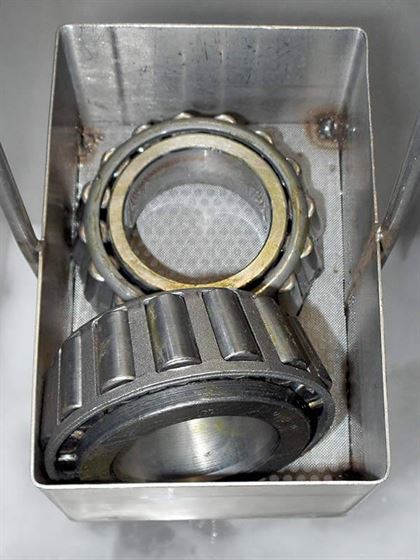 These two bearing are part of a military helicopter, and they are being degreased in a MicroCare cleaner during depot maintenance