Are MicroCare Products Safe or Hazardous?
There is no standardized "cert" about hazards and safety but, in general, the MicroCare cleaners are just about as safe as you can get. Their exact performance is documented on the Product Specs and on the Safety Data Sheets (SDS) prepared for every cleaning fluid. For European customers, all MicroCare products are REACH registered for safety. Let's take a look at the details:
(NOTE: The following discussion applies to customers in the US. Safety rules change in every country; check your own local regulations for the details as they apply to your company.)
In the US, a chemical can be considered "hazardous" because of (a) the toxicity of the chemical itself, (b) the flammability of the chemical, (c) the packaging of the chemical, (d) the reactivity of the chemical, and/or (e) the applications in which it is used.
For example, many MicroCare products are sold in aerosol packaging. When shipped to a customer by air, they will be considered hazardous. This is because the aerosols are "pressurized containers" and pose some slight safety risk to airplanes if they exploded in flight. So the packaging can make a big difference.
As an example, the Lead-Free Flux Remover – PowerClean™ (#MCC-PW210A) is safer because it is nonflammable, and so customers might choose PowerClean for that reason. This is documented on the Product Specification under "Flash Point" and "Flammability Rating."
Another option is to improve the handling of the chemical. The TriggerGrip™ system minimizes worker exposures, and is much safer than messy dip-and-brush cleaning on PCBs.
In terms of toxicity (long-term skin, eye and breathing exposure to the chemicals), all three of these products are very safe. This is measured by the Threshold Limit Value (TLV, AEL, PEL, or similar term) assigned to the chemical by government safety scientists. This is an attempt to measure the greatest amount of solvent a person could be exposed to for 8 hours each day, five days a week, for a thirty-year working life AND have no health effects at all. A high score is good (a perfect score is 1,000 parts per million), and a low score (say, 5 or 25 ppm) is considered pretty dangerous. VeriClean, for example, has a TLV of 200 ppm, which is right in the middle of the average scores. Alcohol is 400 ppm. Some solvents (not provided by MicroCare) are in the 10 ppm range, and we think that is sufficiently dangerous that we won't package them in aerosols or let novice users buy them in bulk.
In short, if a company is concerned about hazards to workers and to their factories, they need to read the product specifications and SDS sheets. These documents have all the important facts included on them, and we take great pride in offering complete, accurate and up-to-date information on them.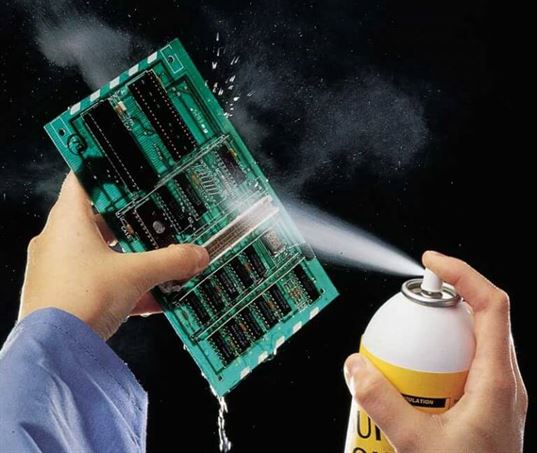 Messy aerosol sprays volatilize the cleaning fluid, exposing workers to fumes. The excess fluid also can puddle below the cleaning site, creating a flammability hazard if the solvent has flammable characteristics