What's Best for Cleaning Under Low Clearance SMT Components?
Contamination is one of the primary drivers of field failures in electronics today. Corrosion and electrochemical migration ("ECM") is directly caused by residues left on PCBs. Contamination-related failures are pervasive and have been observed on batteries, LCDs, PCBAs, wiring, switches, under coatings, over coatings, etc. The problem is expected to get worse as continued reductions in pitch between conductors makes future packaging more susceptible. Contaminants are concentrated under these low standoff devices.
This didn't used to be a problem. Until the 1970s, almost all electronics were built from individual components, with the labor-intensive assembly of thousands of separate diodes and transistors. The miniaturization demanded by the space race led to the first computer chips called "plated through-hole" circuit board designs. The defining physical feature of a through-hole PCB are the "legs" that extend from the components. These chips have a high "stand-off" from the board which makes it easy to clean the rosin flux residues that migrated under the components.
The late 1980s saw the evolution to the first SMT "surface mount technology" components. Shorter legs and tighter stand-offs enabled more chips per-square centimeter, making the resulting tools "smarter." Many chip designs, such as the popular QFP format, had 200+ electrical connections which made the chips extremely powerful.
But by the turn of the century, ball grid array ("BGA") components were becoming commonplace. BGA components jammed even more transistors into the smallest possible package. Each chip supported thousands of tiny solder connections (hidden underneath the chip) which make them extremely rugged, even in harsh environments. BGA designs have stand-offs measured in microns. The increased use of leadless and bottom termination components (QFN, land grid array, etc.), multi-chip modules and other advanced component designs results in a reduction in standoff height which reduces the efficiency of cleaning.
These dense designs are difficult to clean, and cleaning is absolutely critical to longevity and performance. Specifically, heat from the component accelerates the reactions formed with salt complexes which can then cause corrosion or dendrite growth on the PCBs, causing the PCB to fail. Dense PCB designs run hot, so corrosion that might take years in a benign office environment can happen in just days in a hot, humid environment.
For best cleaning results, PCB fabricators should seek out cleaning fluids that are very pure and uncontaminated, with a high Kb value, with low surface tension and low viscosity. Water simply will not get under these tight-fitting components, and if somehow it does get under the chip it will rarely ever comes back out. For best results, consider the Heavy Duty Flux Remover — SuprClean™ (#MCC-SPR). Other good options are the No-Clean Flux Remover — VeriClean™ (#MCC-DC1) and the General Purpose Flux Remover (#MCC-FRC).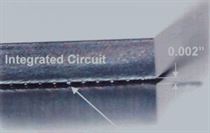 BGA components like this one link their electrical connections with thousands of tiny solder joint hidden beneath the component. These can be very difficult to clean with traditional liquids