Which MicroCare Cleaners Can I Use in Australia?
MicroCare offers an enormous array of different cleaning chemistries, tailored to different applications. Australia has stringent new rules about the importation of ozone-depleting substances and global warming substances, so not every MicroCare product is acceptable in that country. Your best choices are the low-GWP products which also are used in Europe. These include: Polar Flux Remover (#MCC-PFR10A), the VOC-Free Flux Remover - UltraClean™ (#MCC-VOC107), the No-Clean Flux Remover - VeriClean™ (#MCC-DC1107) and the Alcohol-Enhanced Flux Remover - ProClean™ (#MCC-PRO107). For a nonflammable option, the Universal Flux Remover (#MCC-UFR10A) is currently the only choice.
MicroCare is continuing to advance the boundaries of chemical engineering and solvent technology by pushing to find mixtures that will offer nonflammable cleaning options as well. For details are these products evolve contact MicroCare directly.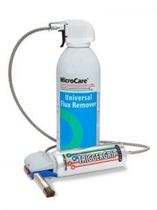 The Universal Flux Remover is an ultra-low GWP formulation that is completely free of HFC ingredients