MicroCare 'elevates the excellence of electronics' at IPC APEX 2020
February 13, 2020
As the IPC APEX Expo 2020 in San Diego wound to a close on February 6th, the consensus from the MicroCare team was that it was a successful show. The overall APEX theme of "Elevate the Excellence of Electronics" fit perfectly with our own MicroCare business approach of 'Excellence without Exception".
The MicroCare booth was large and bright, and by far the most completely equipped venue at the show. The team looked sharp in their new blue MicroCare neckties. Customers found cleaning answers that ranged from flux cleaning pens to aerosol sprays all at one booth. The MicroCare team of critical cleaning applications specialists eagerly presented the various ways to solve our customers' PCB cleaning dilemmas.
The team met with hundreds of customers and prospects from the US and around the world. We noticed a surge of attendees that came to San Diego from Mexico and it was great to have our Mexico Regional Sales Manager, Ernesto Pollano, at the booth to collaborate with them.
While meeting with many of our distributor partners, the MicroCare team took the opportunity to review the full electronics cleaning product line and to demonstrate the features, benefits and operation of the TriggerGrip™ cleaning system.
One of the attractions to the booth was the product training provided by Keith Sanducci, our MicroCare Western Regional Sales Manager.
In a week filled with notable events, two truly stand out. The
EIS Mexico
team was awarded the 2019 MicroCare Distributor of the Year Award and
FHP Reps
received the 2019 MicroCare Sales Representative of the Year Award. Both the EIS Mexico and FHP teams were on hand to receive their awards. We are fortunate to have such superb people to help support our MicroCare customers. IPC APEX 2020 was a big success for MicroCare. Now, we're looking forward to a busy year working closely with our customers, both existing and new.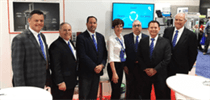 The MicroCare Team looks sharp!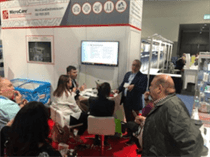 Keith Sanducci leads a training session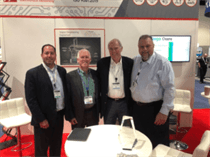 Congratulations to FHP Reps for their Rep of the year award. Dan Sinclair, David Doggett, Russell Claybrook and Keith Favre.