'Salute to the Stars' Dinner Honors Top Performers at MicroCare with Annual Global Sales Awards
May 24, 2018
The highlight of the entire Global Sales Meeting was the much-anticipated "Salute to the Stars" Sales Awards banquet. But before we all got to dinner, we had one more long day, with more classroom time, more discussions, and complex decisions carefully crafted. The day was split between more break-out groups and discussion sessions. While the team was getting tired — and still supporting customers by phone and email! — the training and thinking was getting done.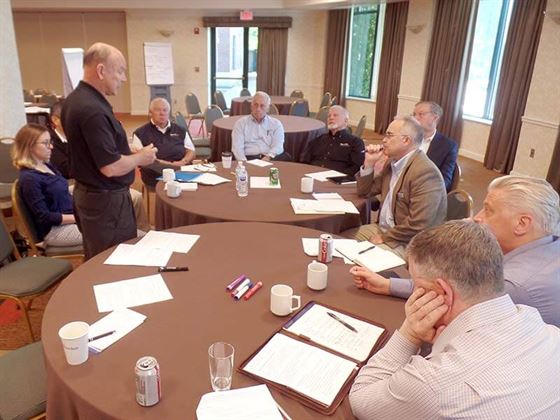 Dave Ferguson, MicroCare Product Manager for Precision Cleaning, explains the sales plans for 2018-19 to the senior executives at MicroCare.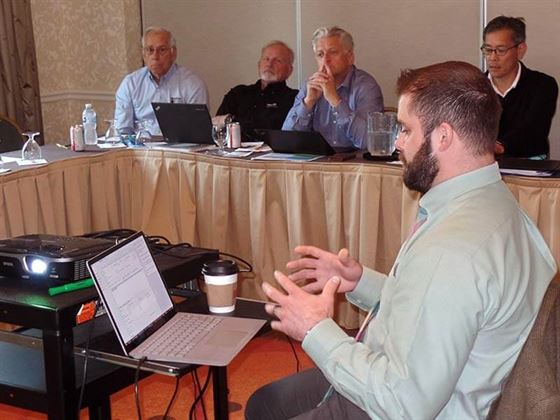 A decision is only as good as the data upon which it is based. Here, the sales team gets hands-on training on the company I.T. systems from our experts.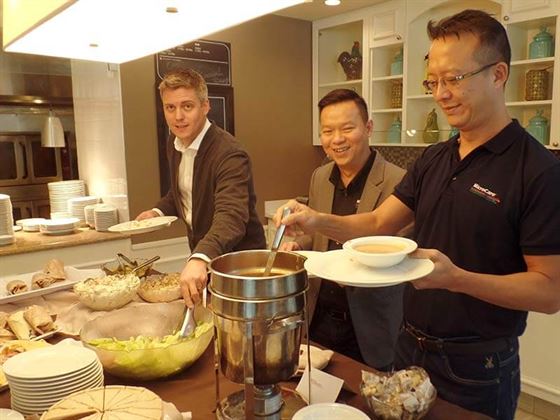 A sales team is like an army, and as Napoleon said, "it runs on it's stomach." At the MicroCare global sales meeting, keeping everybody fed is a top priority. Here Liam Taylor, Jerald Chan and Joe Ng enjoy the lunch break.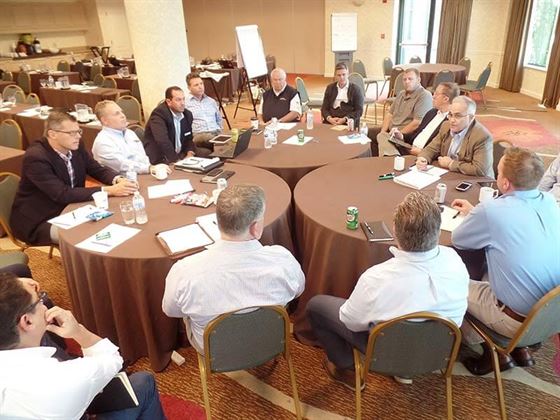 Another "council of war" where the sales team for the Distributed Products (electronics and fiber optics) reviews the sales strategies and investments with the senior members of the MicroCare management team.
Sales Awards Dinner
The highlight of the entire Global Sales Meeting was the much-anticipated "Salute to the Stars" Sales Awards banquet.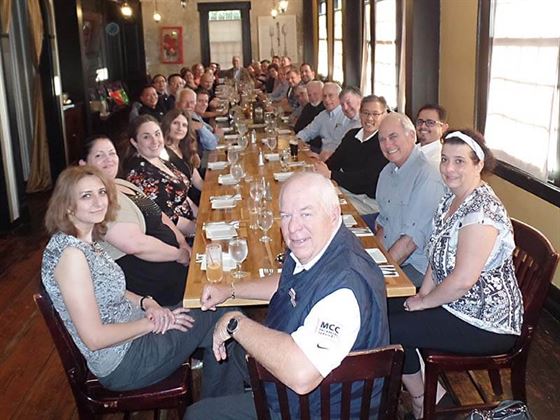 The entire MicroCare sales team joined together for the annual Salute to the Stars banquet. Here, MicroCare president Chris Jones (front) and 37 other sales super-stars enjoy one last dinner before heading back to their homes, offices and customers.
The dinner was held at the historic Lucky Lou's restaurant, in the Deming-Standish House in Old Wethersfield, Connecticut. Everyone involved in customer service was invited, and everything was perfect — even the weather. Pre-dinner cocktails were on the patio outside the restaurant, and the award dinner was upstairs in the Old Dining Room. Chris Jones chatted with the entire team about the accomplishments of the year, and Tom Tattersall, MicroCare Chief Operating Officer, made the awards presentations along with Heather Gombos, Vice President Business Operations.
Honored this year were:
Venesia Hurtubise, Hartford, Connecticut
John Hoffman, Dallas, Texas
Russell Claybrook, Austin, Texas
Rick Hoffman, Naples, Florida
Scott Wells, Leeds, UK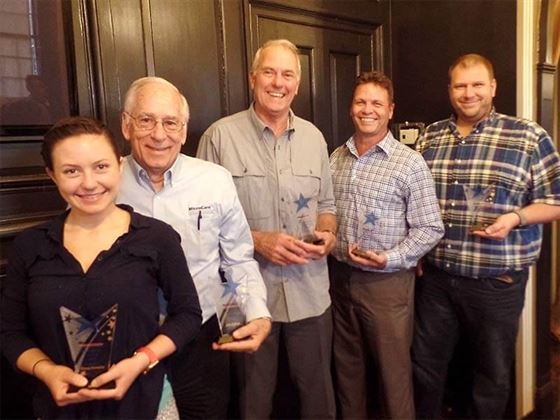 This year's honorees are (L-R) Venesia Hurtubise, John Hoffman, Russell Claybrook, Rick Hoffman and Scott Wells.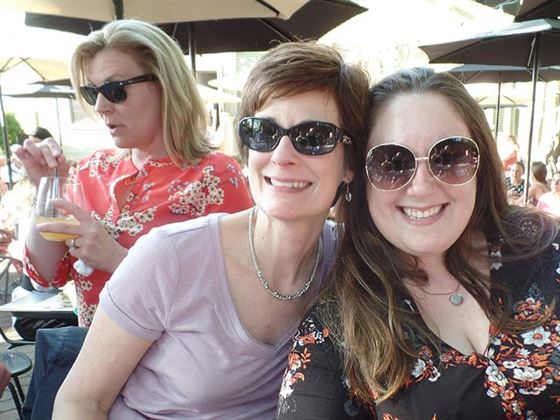 The weather was unexpectedly beautiful for the pre-party, so it became a war of the sunglasses with Colleen Pace, Guylaine Guerette and Stephanie Wood battling for top honors!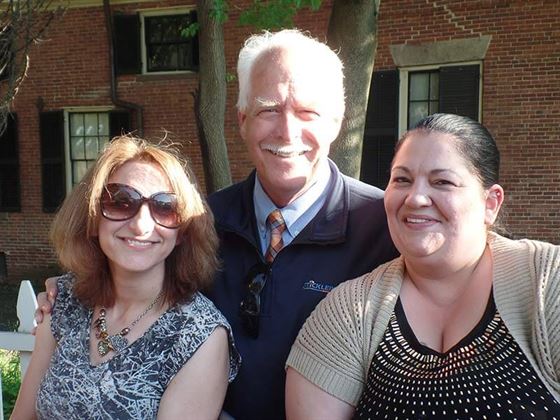 At the pre-dinner party, Mirela Omerbasic and Amy Mancini shared a happy conversation with Mike Jones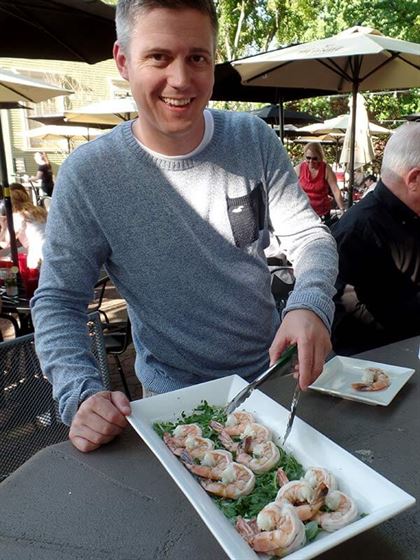 Liam Taylor, only in his third day on the job at MicroCare, grabs some snacks at the Salute to the Stars party.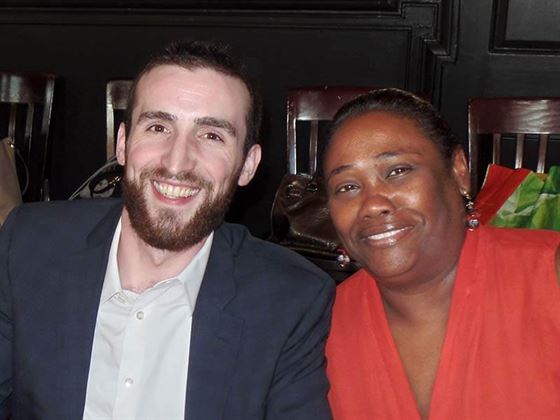 Jordan Bartucca and Mimi Douet, both on Inside Sales, joined the festivities at the Salute to the Stars banquet.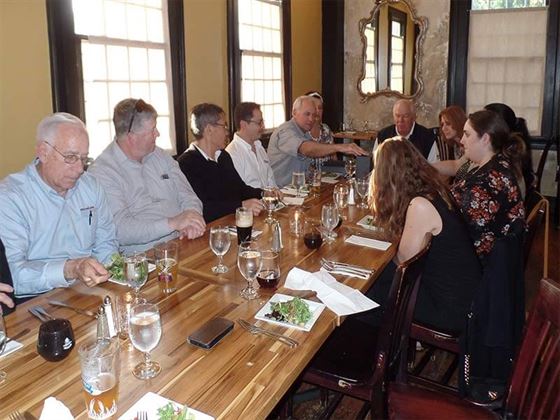 John Hoffman, Steve LeFevbre, Rob Lee, Agustin Mireles and many others were at the dinner
Click here for photos of the All-Company Party
Click here for great snapshots of the the Sunday evening Welcoming Dinner