Do MicroCare Aerosol Products Damage the Ozone Layer?
No, there are no MicroCare products made with any ozone-depleting substances. In years past, MicroCare package products using HCFC-141b, 1,1,1-TCA, and CFCs. But those products were all phased-out years — even decades — ago, as the world became aware of the damage they were doing to the environment. MicroCare has many new, ozone-safe solvents that are perfect answers to replace HCFC- 141b solvents.
What Are the Alternatives?
If you are still using one of those ozone-depleting solvents — they're still made in China! — it's time to RUN, not walk, to the alternative choices. You've put this off for years; the time has come. There are a number of great alternatives to consider:
Contact MicroCare for more details and suggestions.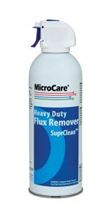 SuprClean™ is a powerful, HFC-based fluid used for traditional (RMA) fluxes, solder pastes, plus oils, grease, some inks and acrylic conformal coatings