Can I Get Refills for My Presaturated Wipes?
Yes, we do have presaturated wipe refills. MicroCare offers five different types of presaturated wipes featuring our most popular fluids and four of these have refills. The refills are important because they allow you to re-use the plastic tubs, which reduces costs by approximately 25%-35%. They also help you protect the planet by eliminating solid waste.
The presaturated wipe refills are for:
MicroCare presaturated wipes are lint-free, clean great, and guarantee that your operators are using the proper amount of fluid (not too much, which slows the printing process, and not too little, which slows cleaning). Presaturated wipes also offer a health and safety benefit in that the operator always uses the proper cleaning fluid — no "home grown" chemistries with unknown effects on the stencils or your staff.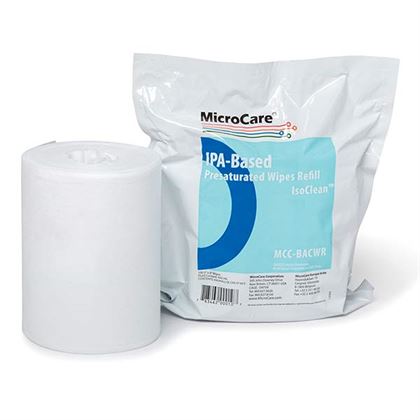 These are the refill wipes for the IsoClean presaturated wipe. They'll generally save users about 35% over buying a completely new tub of wipes