Does MicroCare Have Any Replacements for HCFC-225?
HCFC-225 was an "Class II" ozone-depleting substance and is no longer made in the USA or Japan. In the 1980s, in response to the depletion of the ozone layer, more than 100 nations worked together on a treaty called "the Montreal Protocol." This treaty set the rules for eliminating ozone-depleting substances around the globe. The first chemicals to go were the refrigerants and solvents called CFCs, halogenated fire suppressants and other "Class I ozone-depleting substances." Then the less damaging HCFCs, which are "Class II" products, had to go. The last HCFC on the market today was HCFC-225, made in Japan, and it was phased out in 2015. MicroCare has never packaged HCFC-225, which is also called AsahiKlean and other names. While there are no restrictions on using HCFC cleaners in the U.S., since nobody has produced the fluid for a number of years it has become very scarce and expensive. MicroCare has many new, ozone-safe solvents that are perfect answers to replace HCFC- 225 solvents.
Does This Involve "SNAP"?
Yes, it does. In the USA, the Clean Air Act defines the "Significant New Alternatives Program" (SNAP). This process prevents people from switching from one ozone-depleting chemical to something worse. Customers will need to switch to new SNAP-accepted alternatives to replace HCFC-225. The first step they should take with any substitute is to confirm the proposed alternative is SNAP- approved as a replacement for HCFC-225 in their specific application. All of the MicroCare alternatives are "SNAP" approved.
So What Are the Alternatives?
If you are still using HCFC-225, it's time to RUN, not walk, to the alternative choices. You've put this off for years; the time has come.
There are a number of great alternatives to consider for cleaning on the benchtop:
If you were using HCFC-225 in vapor degreasers, see the excellent cleaning options from MicroCare in the Precision Cleaning web site.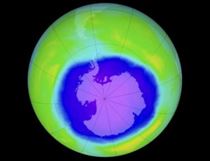 The 'ozone hole' over Antarctica has shrunk by 4 million square kilometers from 2002-2015, mostly due to the reduction in ozone-depleting solvents. Source: BCC