How Long Does a Can of MicroCare Flux Remover Solvent Last?
The correct answer is, it depends on (a) what you are cleaning, (b) how much you are cleaning and (c) how well trained your people are.
If your people are using the TriggerGrip™ dispensing system it should double or even triple the life of an aerosol can. This means in a normal manufacturing environment, where a traditional high-pressure aerosol might last 2-3 days working days, a can of the fast-drying solvents the Lead-Free Flux Remover — PowerClean™ (#MCC-PW210A) or the No-Clean Flux Remover — VeriClean™ (#MCC-DC1) will last 5-10 working days. In the same scenario, a can of the medium-drying speed product, Alcohol-Enhanced Flux Remover–ProClean™ (#MCC-PRO) might last 15 days and a can of slow-drying Citrus-Based Flux Remover (#MCC-EC7M) might last 20+ days.
Companies that use the TriggerGrip™ system also will find that the aerosol cans are guaranteed to empty completely, a promise no other company makes.
In addition, to maximize can life and maximize savings use slower-drying solvents. Since they evaporate more slowly, operators have more time to work with the solvent, so consumption declines.
It's not the cost-per-can that really matters, it's the cost per-board-cleaned! Nothing cleans more affordably than the MicroCare TriggerGrip™ cleaning system.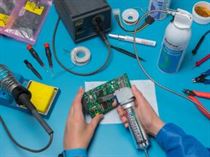 The TriggerGrip™ cleaning system connects to a MicroCare aerosol can and delivers fast, better and safer benchtop cleaning