What's the Best Replacement for nPB Aerosols?
The U.S. Environmental Protection Agency, State OSHA offices and governments around the world have been considering measures to reduce and restrict the uses of nPB, TCE, perc and methylene chloride. Here's a quick look at the particular situation involving nPB:
Normal propyl bromide (also called nPB, 1-bromopropane, CAS #106-94-5) is an affordable, nonflammable, versatile industrial chemical used in a wide variety of applications (e.g., carrier fluid for adhesives, to clean fluxes from printed circuit boards, degrease metal and ceramic parts, cleaning optics, aerospace maintenance and as an intermediate product in the production of certain synthetic fibers). It has a very high Kb value and operates at higher temperatures than low-boiling solvents, which is useful in many applications.
In 2014 the American Conference of Governmental Industrial Hygienists (ACGIH) concluded the 8-hour time-weighted average exposure limit for 1-bromopropane should be reduced from 10 parts per million (ppm) to 0.1 ppm. In 2016, the U.S. Environmental Protection Agency (EPA) added nPB to the Toxic Release Inventory which requires companies using nPB to file an annual report on the emissions and disposal of nPB. It is now almost impossible to use nPB in an industrial setting and maintain a worker exposure below the minimum safety standard.
MicroCare has never packaged nPB in aerosol packages, but many other companies have. This presents a serious safety hazard to workers. MicroCare offers advice and engineering expertise to customers to help them use nPB and other solvents safely. These include:
If you were using nPB in a vapor degreaser, learn more about the new Tergo™ performance fluids from MicroCare which are excellent replacements for nPB.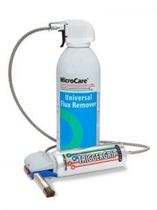 The Universal Flux Remover is an ultra-low GWP formulation that is completely free of HFC ingredients and is a good replacement for nPB as well