What Does It Mean to Be 'VOC Exempt'? Is the Chemical Still a VOC?
As noted elsewhere in this web site, a VOC is an organic chemical (containing carbon) which can evaporate and remain in the atmosphere. While these materials float in the atmosphere the VOCs react with sunlight and can contribute to smog in cities. However, to be a harmful VOC the organics must have a significant atmospheric life span (measured in months) and be reactive in sunlight, because it is the reaction with sunlight that breaks the VOCs down into the smog.
Now, almost every molecule containing the element carbon is technically organic, like the siloxanes in the VOC-Free Flux Remover – UltraClean™ (#MCC-VOC). However, siloxanes, the main ingredient in both the VOC-Free Flux Remover – UltraClean™ and in the No-Clean Flux Remover – VeriClean™ (#MCC-DC1), have a life span of about two weeks when exposed to sunlight. This is insufficient to contribute to the build-up of smog in cities. Therefore, it has been regulated as "an exempt" substance.
The same is true of the new Universal Flux Remover (#MCC-UFR) which is 100% VOC exempt.
So only the "non-exempt" ingredients in the mixtures are counted as VOCs on the can labels, product specs and SDS sheets.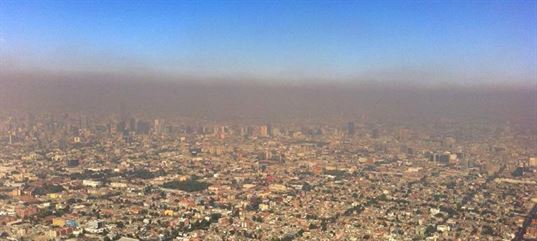 The air quality in cities can be very poor, mostly due to VOC emissions in the atmosphere. This photo is Mexico City in 2010.