What Is the VOC Content of the MicroCare Products?
Here's a note from a customer in Eastern Europe:
"I work for [Deleted] in Romania. Our colleagues from Penang are using your solvents for cleaning the boards after repair/rework (VeriClean). The problem is we can't find the percent VOC contained in the substance. Can you provide us that info?"
On the Product Specification you will find a reference to the "non-exempt organic content." This is the VOC content. You also can find this value on the can itself and on the SDS sheet.
The value for No-Clean Flux Remover – VeriClean™ is 87 grams per liter. The VOC-Free Flux Remover – UltraClean™, the new Universal Flux Remover and the Universal Contact Cleaner all contain no VOCs. So depending upon your requirements, MicroCare has a cleaning fluid that will work for you.
Special note: In most cases, VOC content is expressed in grams-per-liter, not percentages as you described it. Grams-per-liter allows a more accurate comparison across materials with different specific gravities and at different temperatures. Check the product specs and the SDS sheets for the VOC content.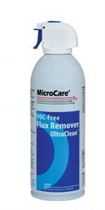 The VOC-Free Flux Remover is engineered for regions where local air quality rules prohibit traditional cleaning fluids