What Is the VOC Content of the MicroCare Flux Removers?
On the MicroCare Technical Data Sheets you will find a reference to the "non-exempt organic content." This is the VOC content. You also can find this value on the flux remover can itself and on the SDS sheet.
In most cases, VOC content is expressed in grams-per-liter which allows an accurate comparison across materials with different specific gravities and at different temperatures. Check the product specs and the SDS sheets for the VOC content of other MicroCare products.
Low-VOC Choices from MicroCare
MicroCare engineers have reformulated many of the cleaning products for reduced VOC levels. Here's just a short list, as some examples:
All MicroCare products have their non-exempt organic content listed on their product spec sheet, the SDS sheet, and on the can label, so you can always tell the VOC impact of the different selections. However, every community has different rules, so the savvy engineer will be careful to check their regulations before making a final selection. For example, California's CARB rules regulate a chemical by both the ingredients AND the application, so an acceptable solvent for cleaning electronics may not be an acceptable choice for washing windows. Check the rules in your area.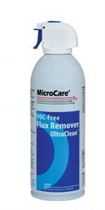 The VOC-Free Flux Remover is engineered for regions where local air quality rules prohibit traditional cleaning fluids