Which Cleaner Works Best on Lead-Free Fluxes and Pastes?
Lead-free fluxes and pastes are difficult to clean. They are soldered at higher temperatures and the residues become "cured" and hard to remove. You need real muscle for age-hardened lead-free fluxes, even no-clean lead-free products.
For best results, try Lead-Free Flux Remover – PowerClean™ (#MCC-PW2). This is the strongest of the nonflammable, fast-drying solvents because it contains a large proportion of the solvent "trans." Most importantly, it works great on the high-temperature lead-free solders and pastes and easily eliminates the white residues that often occur when cleaning those materials. It's the least expensive product in it's class. For best results, use it with the TriggerGrip™ cleaning system.
For stencil cleaning, the Uncured Epoxy Remover — Expoxy™ (#MCC-EPX) is a combination defluxer, degreaser and stencil cleaner. Based on a hydrocarbons it's relatively slow-drying and about as strong as the old 1,1,1-TCA (especially on grease, oils and other heavy contamination). This means it is ideal when you are cleaning more than just circuit boards — such as mechanical parts, housings and work benches. Overall, it cleans well, is very versatile and highly affordable, with superior toxicity ratings and is less expensive than other choices. This is most often used in presaturated wipes.
The Reflow Oven Cleaner (#MCC-ROC) is a powerful, water-based cleaner designed to remove uncured lead-free materials. It is an aggressive, nonflammable, slow-drying solvent engineered specifically to remove baked-on fluxes from inside wave solder machines and reflow ovens. This cleaner dissolves conveyor-clogging flux residues inside the ovens. The chemical is safe on pallets, baffles, heating elements, clamps, chains, pulleys, drive gears and housings. Rinsing is never required. The refillable pump spray makes cleaning easy and fast.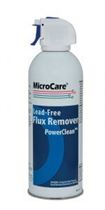 PowerClean™ is a super-strong, nonflammable, fast-drying solvent that prevents the formation of white residues on PCBs