My People Are Complaining About Solvent Fumes. What Can I Do?
Let's assume your people are cleaning PCBs or stencils by hand. Try this three-step process to improve worker safety.
Check the Ventilation
First and foremost, you must make sure your work areas are properly ventilated. How do we define 'properly ventilated'? If you lit a cigarette in the work area, would the smoke from your cigarette rise straight to the ceiling, or would it move off to one side fairly quickly and be dissipated through the room? If it rises straight to the ceiling, your ventilation would be considered poor. Good ventilation is essential in a modern factory. It improves worker health, reduces absenteeism, and boosts productivity. You need to install fans in the area, open windows, install dedicated fume extraction equipment, and/or get your facility manger to turn up the A/C a bit.
Switch to the TriggerGrip™ Cleaning System
Open trays of solvent are obviously a bad idea. Improper use of cleaning machines can create clouds of fumes that could choke a horse. The TriggerGrip™ system from MicroCare (#MCC-ESD) dramatically cuts solvent waste and thereby minimizes solvent fumes. Slow-flow brushes on your TriggerGrip™ can further reduce solvent consumption and fumes. Also, be sure everybody is using them properly. If in doubt, call your sales rep for refresher training or get a copy of the TriggerGrip™ training video.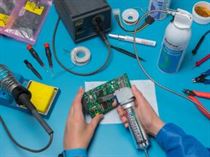 The TriggerGrip™ cleaning system connects to a MicroCare aerosol can and delivers fast, better and safer benchtop cleaning