Sticklers™ CleanClicker™ Cassette Cleaners for Fiber Optics
Product Information
CleanClicker Cassette Cleaners remove contaminants without scratching end faces
Applications:
Use to clean SC, LC duplex, ST, FC, E2000 and female (no guide pins) MPO cable assemblies
Use the CleanClicker Cassette Cleaner on glass, ceramic and composite ferrule faces
Clean male (with guide pins) MT ferrules
Ideal for OSP and premises applications, enterprise applications, field installations, OEM assembly and in research labs
Features:
Cleans multiple end-faces before advancing the wipe, saving 50% to 80%
Micro-woven cleaning ribbon traps dust, dirt, oil and grease
Non-refillable tools have 400+ cleanings per tool (approximately 12.5 meters or 40 feet)
Translucent housing makes it easy to see the remaining quantity of cleaning ribbon
Enables wet-dry cleaning, for the best results (use with Sticklers™ cleaning fluid)
Compact size easily fits into any operator's hand
Ribbon advances without bunching up
Part number MCC-CCWRC cleans all standard single fiber connectors including SC duplex, LC duplex, FC, ST and E2000 connectors. This version will also clean the female (no guide pins) MPO connectors. Part Number MCC-CCWMT cleans the male (with guide pin) MPO connectors. The backing in the cleaning window is cut to accept the guide pins so the fiber array is being wiped effectively by the cleaning ribbon.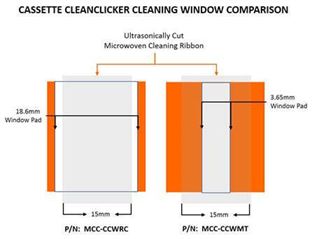 Product Details
Product Image

Part Number
Package
Weight
Size
Technical Data Sheet
Safety Data Sheet

CCWRC 8500-10-0020MZ 8500-10-0029MZ 8500-10-0016MZ 8500-10-0027MZ 8500-10-0011MZ 8500-10-0028MZ 8500-10-0014MZ 8500-11-0050MZ 8500-11-0051MZ F16712 F17020C F17111 FCC-300 14100501 14100601 14110501 14110601 ATC-RE-01 ATC-RE-02 ATC-NE-R2 SHM-503 SHM-501 SHM-502 SCK-CC-100 ReelClean500

MCC-CCWRC

CCWMT 8500-10-0033MZ 8500-11-0052MZ 14100201 ATC-RE-03

MCC-CCWMT
Scroll