Sticklers™ CleanWipes 640 Lint Free Fiber Optic Wipes
Product Information
Sticklers™ CleanWipes 640 have 640 cleanings per box
Applications:
Ideal for cleaning bare fiber and fiber optic connector end-faces
Makes wet/dry cleaning simple with the Sticklers™ Fiber Optic Splice & Connector Cleaner Fluid
Removes fingerprints, oils, grime, polishing compound, dust and lint
Cleans SC and LC duplex connectors without disassembly
Features:
Eight cleaning slots on the top of the box enables techs to perform multiple cleanings on the same piece of fabric without re-using any portion of the wipe
Cleaning slots are color-coded using the TIA-598-D color scheme, which is widely recognized in the industry
Slots are spaced for SC and LC duplex connectors
Cleaning slots feature closer spacing so the tool cleans both duplex connector end-faces simultaneously
Insert the end face into the slots to quickly sweep away contaminants
A single swipe usually delivers a perfectly clean connector
Packaging technology ensures end-users always get the best cleaning at the lowest possible cost - typically 2.8¢ per connector
Rugged plastic orange box is easy to locate and keeps the inner box clean and dry
The inner box has a static-dissipative lining which eliminates any static on the end-faces
Very strong modulus fabric wipes - resist shredding and tearing, even on LC connector end-faces
Premium super-soft, streak-free, and lint-free wipes
Electrostatic-dissipating - removes triboelectric charging
Smooth, white wipe
No glues, bleach or cellulose to re-deposit onto an end-face
High absorbency
Each wipes is 2" x 4.25"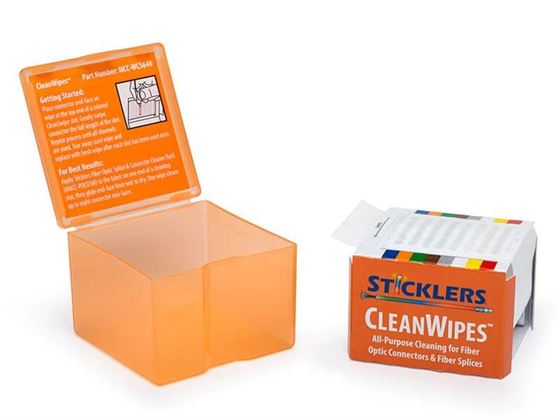 The CleanWipes tool features enough wipes to clean 640 end-faces. The CleanSlots™ clean popular duplex connectors without disassembly.
Product Details
Product Image

Part Number
Package
Weight
Size
Technical Data Sheet
Safety Data Sheet

WCS640 8500-25-0900MZ DT-D175

MCC-WCS640
Box

.2 k

6 oz.

7 cm x 7cm

4 in. x 5 in.
Part Number
MCC-WCS640
Package
Box
Weight

.2 k

6 oz.

Size

7 cm x 7cm

4 in. x 5 in.

Technical Data Sheet
Scroll